« back to Movies
Halloween (1978)
Release Date: Oct. 25, 1978
Genres: Horror, Suspense/Thriller
Cast: Donald Pleasence, Jamie Lee Curtis, Nancy Kyes, P.J. Soles, Charles Cyphers, Kyle Richards, Brian Andrews, John Michael Graham, Nancy Stephens, Arthur Malet
Directors: John Carpenter
Distributor: Compass International Pictures
A young boy kills his sister on Halloween of 1963, and is sent to a mental hospital. 15 years later he escapes and returns to his home town in order to wreak havoc.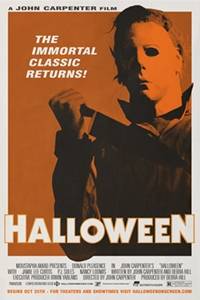 Show Times / Buy Tickets
There are no current showings for Halloween (1978) in this area.