1450 WHTC and 92.7 The Van welcome you to Tulip Time 2013.
Over the next few weeks we will be providing in-depth coverage of the Tulip Time Festival. Look for live streaming video, photos, recorded video and audio and written stories detailing the weeks festivities.
All 3 parades will be streamed LIVE right here*. The parade air dates are below: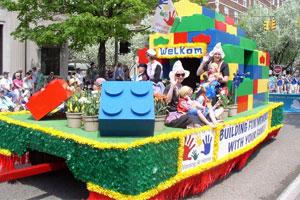 Kinderparade: Thursday May 9th at 2pm
View photos from last year's Tulip Time Parades in our gallery.
Tulip Time Festival, 2013 Schedule of Events
Wednesday 5/8
| | | |
| --- | --- | --- |
| Date & Time | Event | Location |
| 05/08/2013 - 9:00am | Taste of Holland - Breakfast | Hope College Haworth Inn |
| 05/08/2013 - 9:30am | ulip City Tours | Centennial Park |
| 05/08/2013 - 9:00am | Tulip City Tours | Centennial Park |
| 05/08/2013 - 10:00am | Dutch Marktplaats | Civic Center |
| 05/08/2013 - 10:00am | Queen's Market | Window on the Waterfront Park |
| 05/08/2013 - 10:00am | Quilt Show | Holland Area Arts Council |
| 05/08/2013 - 10:45am | Dutch Dance at Marktplaats w/Style Show | Civic Center |
| 05/08/2013 - 11:00am | Celebrate America! (Lunch & Show) | The Commons at Evergreen |
| 05/08/2013 - 11:00am | Meijer Midway Carnival | Civic Center |
| 05/08/2013 - 11:00am | Dutch Dance at Marktplaats w/Style Show | Civic Center |
| 05/08/2013 - 11:15am | Kinder Dutch Dancers at Marktplaats | Civic Center |
| 05/08/2013 - 11:30am | Tulip Time Festival Luncheon | DeVos Fieldhouse |
| 05/08/2013 - 12:00pm | Ambrose T-Shirt Printing | Ambrose |
| 05/08/2013 - 1:00pm | Dutch Dance on 8th St btwn River & Columbia | Downtown Holland |
| 05/08/2013 - 1:15pm | Volksparade | Parade Route: 8th St between Columbia Ave & Kollen Park |
| 05/08/2013 - 5:15pm | Dutch Dance at Marktplaats | Civic Center |
| 05/08/2013 - 5:30pm | Dutch Celebration Dinner Show | Beechwood Church |
| 05/08/2013 - 5:30pm | Dutch Dance at Marktplaats w/Style Show | Civic Center |
| 05/08/2013 - 5:45pm | Kinder Dutch Dancers at Marktplaats | Civic Center |
| 05/08/2013 - 6:30pm | New Odyssey Dinner Show | Hope College Haworth Inn |
| 05/08/2013 - 7:00pm | Breaking Up Is Hard To Do | Holland Civic Theatre |
| 05/08/2013 - 7:00pm | America's Magical Funnyman - Chris Linn | Knickerbocker Theatre |
| 05/08/2013 - 7:30pm | Dutch Dance on 8th St btwn River & Columbia | Downtown Holland |
Return to the top
Thursday 5/9
| | | |
| --- | --- | --- |
| Date & Time | Event | Location |
| 05/09/2013 - 9:00am | Taste of Holland - Breakfast | Hope College Haworth Inn |
| 05/09/2013 - 9:00am | Tulip City Tours | Centennial Park |
| 05/09/2013 - 10:00am | Dutch Marktplaats | Civic Center |
| 05/09/2013 - 10:00am | Queen's Market | Window on the Waterfront Park |
| 05/09/2013 - 10:00am | Modern Delftware Art Class | Civic Center |
| 05/09/2013 - 10:00am | Quilt Show | Holland Area Arts Council |
| 05/09/2013 - 10:45am | Dutch Dance at Marktplaats | Civic Center |
| 05/09/2013 - 11:00am | Celebrate America! (Lunch & Show) | The Commons at Evergreen |
| 05/09/2013 - 11:00am | Dutch Dance at Marktplaats w/Style Show | Civic Center |
| 05/09/2013 - 11:00am | Meijer Midway Carnival | Civic Center |
| 05/09/2013 - 11:15am | Kinder Dutch Dancers at Marktplaats | Civic Center |
| 05/09/2013 - 12:00pm | Ambrose T-Shirt Printing | Ambrose |
| 05/09/2013 - 1:00pm | Dutch Dance on 8th St btwn River & College | Downtown Holland |
| 05/09/2013 - 1:20pm | Kinder Dutch Dancers on 8th St btwn River & Columbia | Downtown Holland |
| 05/09/2013 - 2:00pm | Kinderparade | Parade Route: 8th St between Columbia Ave & Kollen Park |
| 05/09/2013 - 5:15pm | Dutch Dance at Marktplaats | Civic Center |
| 05/09/2013 - 5:30pm | Dutch Celebration Dinner Show | Beechwood Church |
| 05/09/2013 - 5:30pm | Dutch Dance at Marktplaats w/Style Show | Civic Center |
| 05/09/2013 - 6:00pm | Bier Tuin | Splash Pad |
| 05/09/2013 - 6:30pm | New Odyssey Dinner Show | Hope College Haworth Inn |
| 05/09/2013 - 7:00pm | Breaking Up Is Hard To Do | Holland Civic Theatre |
| 05/09/2013 - 7:30pm | Dutch Dance on 8th St btwn River & Columbia | Downtown Holland |
| 05/09/2013 - 8:00pm | The Second City | Knickerbocker Theatre |
Return to the top
Friday 5/10
| | | |
| --- | --- | --- |
| Date & Time | Event | Location |
| 05/10/2013 - 9:00am | Taste of Holland - Breakfast | Hope College Haworth Inn |
| 05/10/2013 - 9:00am | Tulip City Tours | Centennial Park |
| 05/10/2013 - 10:00am | Queen's Market | Window on the Waterfront Park |
| 05/10/2013 - 10:00am | Modern Delftware Art Class | Civic Center |
| 05/10/2013 - 10:00am | Quilt Show | Holland Area Arts Council |
| 05/10/2013 - 10:00am | Dutch Marktplaats | Civic Center |
| 05/10/2013 - 10:45am | Dutch Dance at Marktplaats | Civic Center |
| 05/10/2013 - 11:00am | Meijer Midway Carnival | Civic Center |
| 05/10/2013 - 11:00am | Dutch Dance at Marktplaats w/Style Show | Civic Center |
| 05/10/2013 - 11:00am | Celebrate America! (Lunch & Show) | The Commons at Evergreen |
| 05/10/2013 - 11:15am | Kinder Dutch Dancers at Marktplaats | Civic Center |
| 05/10/2013 - 11:30am | Taste of Holland Lunch | Freedom Village - Main Entrance "The Lakes" |
| 05/10/2013 - 12:00pm | Ambrose T-Shirt Printing | Ambrose |
| 05/10/2013 - 1:15pm | Dutch Dance at Marktplaats | Civic Center |
| 05/10/2013 - 1:30pm | Dutch Dance at Marktplaats w/Style Show | Civic Center |
| 05/10/2013 - 1:45pm | Kinder Dutch Dancers at Marktplaats | Civic Center |
| 05/10/2013 - 3:00pm | Dutch Dance on 8th St btwn River & College | Downtown Holland |
| 05/10/2013 - 4:00pm | Kinder Dutch Dancers at Marktplaats | Civic Center |
| 05/10/2013 - 5:15pm | Dutch Dance at Marktplaats | Civic Center |
| 05/10/2013 - 5:30pm | Dutch Dance at Marktplaats w/Style Show | Civic Center |
| 05/10/2013 - 5:45pm | Kinder Dutch Dancers at Marktplaats | Civic Center |
| 05/10/2013 - 6:00pm | Bier Tuin | Splash Pad |
| 05/10/2013 - 6:30pm | New Odyssey Dinner Show | Hope College Haworth Inn |
| 05/10/2013 - 7:00pm | Breaking Up Is Hard To Do | Holland Civic Theatre |
| 05/10/2013 - 7:30pm | Dutch Dance on 8th St btwn River & Columbia | Downtown Holland |
| 05/10/2013 - 8:00pm | The Second City | Knickerbocker Theatre |
| 05/10/2013 - 8:00pm | Kenny Rogers | Central Wesleyan Auditorium |
Return to the top
Saturday 5/11
| | | |
| --- | --- | --- |
| Date & Time | Event | Location |
| 05/11/2013 - 9:00am | Tulip City Tours | Centennial Park |
| 05/11/2013 - 10:00am | Quilt Show | Holland Area Arts Council |
| 05/11/2013 - 10:00am | Dutch Marktplaats | Civic Center |
| 05/11/2013 - 10:00am | Move to the Muziek | Park Theatre |
| 05/11/2013 - 10:00am | Queen's Market | Window on the Waterfront Park |
| 05/11/2013 - 10:45am | Dutch Dance at Marktplaats | Civic Center |
| 05/11/2013 - 11:00am | Dutch Dance at Marktplaats w/Style Show | Civic Center |
| 05/11/2013 - 11:00am | Meijer Midway Carnival | Civic Center |
| 05/11/2013 - 11:15am | Kinder Dutch Dancers at Marktplaats | Civic Center |
| 05/11/2013 - 12:00pm | Ambrose T-Shirt Printing | Ambrose |
| 05/11/2013 - 12:45pm | Dutch Dance on 8th St btwn River & Columbia | Downtown Holland |
| 05/11/2013 - 2:00pm | Bier Tuin | Splash Pad |
| 05/11/2013 - 2:00pm | Muziekparade | Parade Route: 8th St from Columbia Ave to Van Raalte, south to 24th Street |
| 05/11/2013 - 5:30pm | Wooden Shoe-Be-Doo | Knickerbocker Theatre |
| 05/11/2013 - 7:00pm | Breaking Up Is Hard To Do | Holland Civic Theatre |
| 05/11/2013 - 7:30pm | Dutch Dance Encircling Centennial Park | Centennial Park |
| 05/11/2013 - 8:00pm | Wooden Shoe-Be-Doo | Knickerbocker Theatre |
Return to the top
Sunday 5/12
| | | |
| --- | --- | --- |
| Date & Time | Event | Location |
| 05/12/2013 - 12:00pm | Meijer Midway Carnival | Civic Center |
Return to the top