« back to texting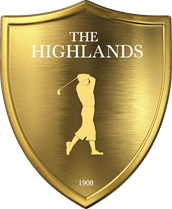 The Highlands Golf Course
When Donald Ross designed the masterpiece that we all call The Highlands, he could not have known at that time, that The Highlands would be one of the premier facilities in West Michigan. more... The Highlands invites your foursome, group or golf outing to experience our magnificently manicured fairways and our extremely fast greens. After your round, you can enjoy a wonderful lunch or dinner in our Pub & Grill. Then, head to the golf shop to reserve your next tee time at The Highlands. The Highlands Golf Club not only offers very reasonable daily rates, but our creative membership options offer something for everyone and truly backs up the statement that "membership has its privileges." We have one of the most experienced staffs in West Michigan that specializes in providing all our our guests the great service that you would usually only expect at private clubs. Our personal service will exceed your expectations. The Highlands is a great place for weddings, banquets, birthday parties, business meetings and other special events. We have a selection of rooms and levels of service available. more...
Contact Information
2715 Leonard St NW
Grand Rapids MI 49504
616-453-1504
---
*Message & data rates may apply. Text STOP to quit. Text HELP for help or call 877.571.0774 for support. To opt-out of alerts, text KEYWORD and STOP to (Ex. STOPWEATHER). Subscribers will receive no more than twenty messages per week when subscribing to any of our Alerts or Offers. No purchase necessary. Marketing text messages will be delivered to the phone number you provide at opt-in.
Approved carriers for texting are: Verizon Wireless, T-Mobile, Sprint/Nextel/Boost, AT&T, U.S. Cellular, Cellcom and Element Mobile. Sprint users may need to call their customer service representative to have the short code functionality activated on their cell phones. For questions or support, please call 877.571.0774.