« Shows & Personalities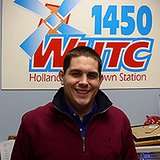 WHTC's Morning News
On Air:

Weekdays, 5am - 9:30am

Hosts:

Dan Spadafora, Gary Stevens
About the Show

WHTC's Morning News with Host Dan Spadafora and News Director Gary Stevens wakes up the Holland, Zeeland area with more news and information than anyone else in West Michigan. Tune in Mon-Fri from 5 - 9:30 a.m. for the local and national news stories you want, the traffic reports you rely on, and the weather forecasts you need.

Show Hosts

Dan Spadafora

Spadafora graduated from Grand Valley State University with a Bachelor of Arts degree double major in Broadcasting and Journalism. He was most recently the Studio Host on 96.1 in Grand Rapids for GVSU Football on the Grand Valley Sports Network and he did extensive newsroom and producing work for sister station, News Radio WOOD 1300 AM and 106.9 FM. He also served as the Director of Broadcasting and Media Relations for the Joliet Slammers, a professional baseball team in Joliet, IL. Now as the Morning Show Host and Brand Manager of WHTC, Spadafora hopes to bring passion and dedication to Holland on an already highly respected local radio station. "Radio to me has always been more than simply a job," Spadafora said. "It is about providing a service to the community while also doing something I love. I want to show that not only is radio alive and well, but this station in town can be a station people can depend on for local news and information. Holland's Hometown Station should be a news leader." Spadafora also said what is most intriguing about WHTC is how much the station cares to serve the community, something a majority of radio stations fail to do anymore. "This is a tremendous opportunity for me in my career, but more importantly it is an opportunity to make WHTC an even larger face in the communities in and around Holland."

Gary Stevens

Gary Stevens brings over 35 years of broadcast experience to the Lakeshore, serving as News Director for WHTC & WYVN since October of 2001. A Detroit native and University of Detroit product, he has won four MAB awards during his tenure in Holland, and in addition to being the weekday morning news anchor on Holland's Hometown Station, Gary is one of the members of the Sports Team on WHTC/WYVN, focusing on providing play-by-play coverage of Saugatuck High football and basketball on 92.7 The Van since 2008.