« Return to shows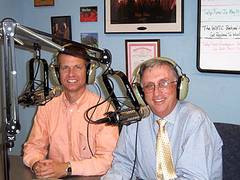 WHTC Money Matters
Each week Jack and Carey will feature a different topic, ranging from College Planning, Retirement, Estate Planning, and Specialized Advice for Woman. From time to time they will also have special guest speakers that include other professionals like CPA's, Attorneys and Social Security Specialist to name a few. We invite you to tune your radios to 1450AM every Saturday morning at 10:10am and enjoy an informative and educational program. Remember to call in with your questions. Jack and Carey work at Koele Godfrey Investment Group, 123 East Main, Zeeland. You can get a hold of them at 616-931-1223 or toll free 866-512-7164.
Episode List
Saturday, April 10, 2010

Jack and Carey had a guest on speaking about Funerals.

Saturday, April 03, 2010

They Money Matters fellows had a guest from GVSU on the show.

Saturday, March 20, 2010

Jack and Carey talked about the advantages of a credit union over a bank and vis/versa.