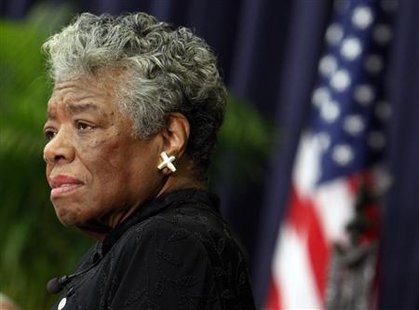 UNDATED (WSAU-MetroSource News) One of America's best-known poets and author has died. Maya Angelou has passed away at the age of 86.
She is best known for her series of six autobiographical volumes about her childhood and early adult life. The first of the books was titled "I Know Why the Caged Bird Sings" and it recounted her first 17 years. The work gained her international recognition and was nominated for a National Book Award. Angelou was awarded more than 30 honorary degrees and had been nominated for a Pulitzer Prize for her 1971 volume of poetry "Just Give Me a Cool Drink of Water 'Fore Diiie."
Last year she was awarded the Presidential Medal of Freedom. She was active in the Civil Rights Movement and was the Northern Coordinator of the late Dr. Martin Luther King, Junior's Southern Christian Leadership Conference. Since 1951, she has taught at Wake Forest University in North Carolina. She recited her poem "On the Pulse of Morning" at President Bill Clinton's first inauguration. In doing so Angelou became the first poet to make an inaugural recitation since Robert Frost at President John F. Kennedy's inauguration in 1961.
Her literary agent says Angelou died at her home in North Carolina. Cause of death has not been announced. Funeral arrangements are pending.