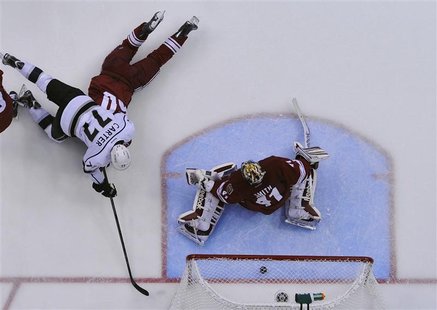 UNDATED (WHTC) - It was a tough Wednesday in sports.
Al Albuquerque balked home the decisive run in the bottom of the 13th inning as the Tigers were swept out of Cleveland by the Indians yesterday, 11-10. Detroit hosts Texas this afternoon; coverage on 1450 WHTC begins at 12:40 PM.
Jose Veras wild pitched the tie-breaking run in the top of the 13th inning as the Cubs fell to the visiting New York Yankees yesterday, 4-2. Chicago travels to San Diego this evening.
Billy Butler's tie-breaking sacrifice fly in the bottom of the 8th inning enabled Kansas City to beat the visiting White Sox last night, 3-1. Chicago is home to the New York Yankees this evening.
***
Steve McQuail's two-run homer in the first inning was the telling blow as visiting South Bend downed the Whitecaps yesterday, 3-1. West Michigan visits Dayton this evening. Hear the game on 1450 WHTC and http://whtc.com/listen-live, starting at 6:50 PM.
***
Jeff Carter scored three times and set up another marker in a five-goal third period for Los Angeles, as the visiting Kings rallied past the Blackhawks last night in NHL Stanley Cup playoff action, 6-2. The Western Conference Finals are tied at a game apiece heading into Saturday night's contest in LA.