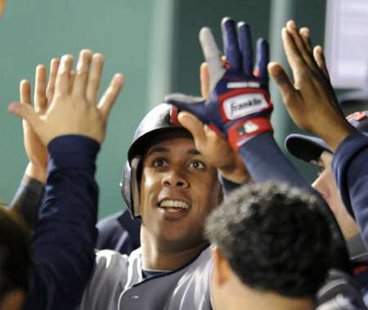 UNDATED (WHTC) - Michael Brantley's solo homer off of Al Albuquerque in the bottom of the 10th inning enabled Cleveland to snap the visiting Tigers' six-game winning streak last night, 5-4. The series at Progressive Field continues this evening. Coverage on 1450 WHTC begins at 6:40 PM.
The Cubs open up a two-game series versus the New York Yankees at Wrigley Field in Chicago this evening.
Paul Konerko's two-run homer in the fifth inning culminated White Sox comebacks from 5-0 and 6-4 deficits, as Chicago won at Kansas City last night, 7-6. The series at Kauffman Stadium continues this evening.
***
Andrew Velazquez had three hits and drove in three runs as visiting South Bend beat the Whitecaps last night, 12-5. The series at Fifth Third Ballpark continues this morning. Hear all of the action on 1450 WHTC and http://whtc.com/listen-live, starting at 10:50 AM.