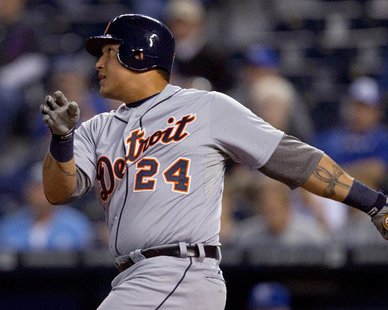 UNDATED (WHTC) - Miguel Cabrera and Rajai Davis each drove in two runs as the Tigers won in Baltimore yesterday, 7-5. Detroit visits Boston tomorrow evening. Coverage on 1450 WHTC is at 6:45 PM.
The Cubs' game at St. Louis was rained out last night and will be made up as part of a doubleheader on August 30th. The series at Busch Stadium concludes this afternoon.
Jose Abreu's three-run homer in the eighth inning enabled the White Sox to win in Oakland yesterday, 4-2. Chicago travels to Houston tomorrow evening.
***
Luis De Paula allowed three hits with four strikeouts over five innings as Great Lakes beat the visiting Whitecaps yesterday, 6-2. West Michigan hosts Lake County this evening. Hear the game on 1450 WHTC and http://whtc.com/listen-live, beginning at 6:25 PM.
***
Second period goals by Jeff Hoggan, David McIntyre and Andrej Nestrasil enabled the Griffins to defeat visiting Texas last night, 3-2. The AHL Calder Cup Western Conference Semifinals is tied at two games apiece. Grand Rapids hosts the Stars at Van Andel Arena tomorrow evening.