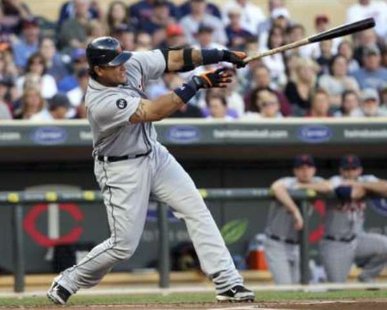 UNDATED (WHTC) - Ninth-inning heroics last night lifted the Tigers to a 4-1 victory at Baltimore. Miguel Cabrera hit a three-run homer, and Victor Martinez followed that with a solo blast. Detroit goes for the series sweep of the Orioles in Camden Yards this afternoon. Coverage from Oriole Park on 1450 WHTC begins at 12:10 PM.
Justin Grimm hit Greg Garcia with a pitch as the bases were loaded in the bottom of the 12th inning last night, which forced in the winning run as St. Louis outlasted the visiting Chicago Cubs, 4-3. The series at Busch Stadium continues this evening.
Brandon Moss slugged two homers and drove in five runs as Oakland blanked the visiting White Sox last night, 11-0. The Athletics go for the series sweep of Chicago at O.co Coliseum this afternoon.
***
Tim Remes homered and drove in three runs as the Whitecaps beat Great Lakes in Midland last night, 4-2. The rubber game of the series at Dow Diamond begins at 10:35 AM this morning.
***
Patrick Kane's goal at the 9:42 mark of overtime gave the Blackhawks a 2-1 NHL Stanley Cup playoff victory at Minnesota last night, enabling Chicago to close out the Wild in the best-of-seven Western Conference Semifinals, four games to two. The defending champions now await the winner of the Anaheim-Los Angeles series, which the Ducks lead, three games to two, but the Kings are home for game six at the Staples Center this evening.
***
Tomas Jurco had a three-goal hat trick as the Griffins downed visiting Texas in AHL Calder Cup playoff action last night, 5-2. The Stars still lead the best-of-seven Western Conference Semifinals, two games to one, as the two teams meet again at Van Andel Arena in Grand Rapids this evening.