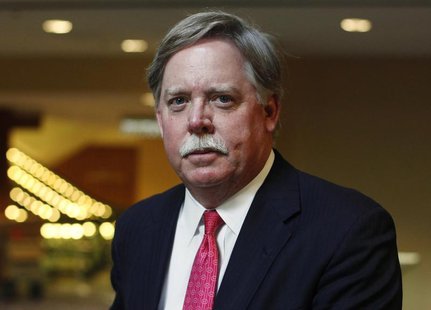 By Caroline Humer
(Reuters) - Managed care company Humana Inc said on Wednesday that it expects growth in Medicare Advantage plans in 2014 despite government cuts to funding and said its will add hundreds of thousands of new customers in Obamacare plans.
Humana said it has received 700,000 applications for individual healthcare plans during the open enrollment period for the new insurance, putting it on track to be one of the largest players on the exchanges.
Humana's revenues are dominated by privately-run Medicare and its stock has typically reacted to how it manages those customers but the new plans are increasingly important, one analyst said.
"While all the focus has been on Medicare Advantage margins, the battleground for the stock this year may prove to be the individual business," Citi Research analyst Carl McDonald said in a note.
Humana shares closed on Tuesday at $109.79.
Humana did not describe the risk profile or costs of the new individual customers, but said it expects to receive program payments from the government in 2014 of $575 million to $775 million to offset its outsized risk on these clients. That is about double its previous forecast for those payments to be $250 million to $450 million.
This forecast comes in contrast to WellPoint, which reported similar sized exchange enrollment last week but said it is making money off its new customers and does not expect to receive any payments from the government.
President Barack Obama's healthcare reform law, which is vehemently opposed by Republicans, is being scrutinized to determine if its costs will be sustainable. The plans, which are sold both on and off exchanges created by the government, come with income-based subsidies and minimum benefits. For the first three years of operation, insurers receive payments to ease the risk of selling in the new market.
MEDICARE ADVANTAGE
Humana, whose first-quarter profit beat analyst expectations but still fell as it spent more on marketing and investments related to new products, said it will add 435,000 people this year to Medicare Advantage plans.
At the end of the first quarter, it had about 2.8 million people in these plans, which are offered to seniors.
Humana, which had warned this year that government funding cuts would negatively effect its business, said it still sees a challenging year ahead because of government cuts to funding for Medicare Advantage. It stuck by its outlook for earnings of $7.25 to $7.75 per share, which it said has factored in higher-than-expected costs for new Hepatitis C treatments.
These costs offset some lower medical services use during the first quarter, it said.
Profits during the quarter fell in part because of Medicare Advantage and Obamacare exchange plan costs, it said, as well as healthcare reform taxes and fees that raised the company's tax rate.
The company reported net profit of $368 million, or $2.35 per share, down from $473 million, or $2.95 per share a year earlier. The year-earlier figure included a 41 cent-per-share benefit from settling contract claims.
The company's earnings beat analyst expectations of $1.94 per share, according to ThomsonReuters I/B/E/S.
(Reporting by Caroline Humer; Editing by W Simon and Sofina Mirza-Reid)