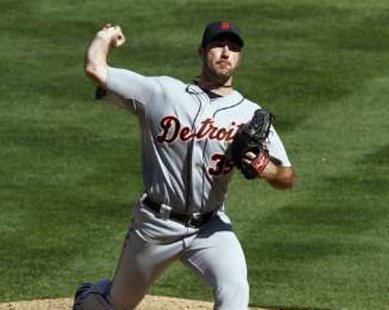 UNDATED (WHTC) - Torii Hunter drove in three runs and Justin Verlander allowed four hits with seven strikeouts over seven innings as the Tigers swept the Royals in Kansas City yesterday, 9-4. Detroit hosts Houston tonight; coverage on 1450 WHTC begins at 6:40 PM.
The Cubs and White Sox meet at Wrigley Field in Chicago this evening after mixed last-bat results yesterday. Dayan Viciedo's three-run homer in the ninth inning gave the White Sox a 4-3 matinee victory at Cleveland. Yadier Molina's two-run single in the ninth broke a 3-3 tie, enabling visiting St. Louis to edge the Cubs last night, 5-4.
***
Jose Zambrano's RBI single capped a two-run rally in the ninth as the Whitecaps slipped past the Lugnuts in Lansing yesterday, 2-1. West Michigan is home to Lake County at Fifth Third Ballpark this evening.
***
Bryan Bickell had a goal and two assists as the Blackhawks beat visiting Minnesota in NHL Stanley Cup playoff action yesterday, 4-1. Chicago leads the best-of-seven Western Conference Semifinals, two games to none, heading into tomorrow night's contest in St. Paul.