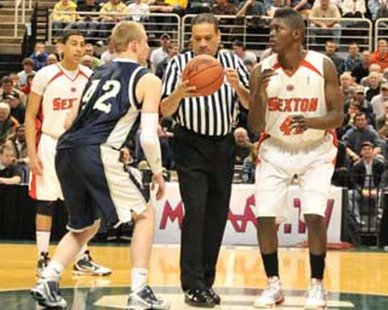 UNDATED (WHTC) - The state high school boys' basketball tournament finals are at the Breslin Center in East Lansing today, and on 1450 WHTC. The first session airs at 9:50 PM, with Southfield Christian battling Lenawee Christian for the D title, followed by the A championship between Muskegon and Bloomfield Hills. The second session starts at 4:20 PM, with Pewamo-Westphalia meeting Detroit Consortium for the C crown, followed by the B title game between Benton Harbor and Milan.
***
College basketball post-season play this evening finds, in the NCAA tournament, Michigan State versus Harvard in Spokane and Michigan against Texas in Milwaukee, while Eastern Michigan visits Columbia in the College Insider Tournament.
***
Eric Bledsoe scored 23 points as Phoenix defeated the visiting Pistons last night, 98-92. Detroit plays the Clippers in Los Angeles this evening.
Luis Scolia's 19 points helped Indiana beat the visiting Bulls last night, 91-79. Chicago is home to Philadelphia this evening.
***
The Red Wings begin a home-and-home set versus Minnesota in St. Paul this afternoon. We'll carry the rematch from Hockeytown tomorrow evening at 7:10 PM on 1450 WHTC.
Jonathan Toews' goal at the 3:29 mark of the third period broke a 2-2 tie, enabling the Blackhawks to edge visiting Carolina last night, 3-2. Chicago travels to Nashville tomorrow evening.
***
Jeff Hoggan and Mitch Callahan each had a goal and an assist as the Griffins won at Iowa last night, 4-1. The two teams have a rematch in Des Moines this evening.
***
Exhibition baseball yesterday saw the Tigers defeat Atlanta, 3-0, and the Cubs down the White Sox, 7-0. Today, the Tigers play Toronto, while the Cubs meet Cincinnati, and the White Sox split their squad to battle San Francisco and San Diego. Hear tomorrow's Tigers spring training game versus Miami at 1 PM on 1450 WHTC.