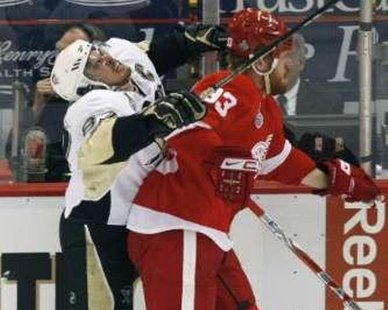 UNDATED (WHTC) - The Detroit Red Wings welcome Pittsburgh to Joe Louis Arena this evening. Coverage from Hockeytown on 1450 WHTC begins at 7:10 PM.
Corey Crawford made 23 saves as he backstopped the Blackhawks to a 4-0 victory over visiting St. Louis last night. Chicago is home to Carolina at the United Center tomorrow evening.
***
The NCAA basketball tournament begins in earnest, with late afternoon matinees for Michigan State versus Delaware in Spokane and Western Michigan against Syracuse in Buffalo, while Michigan takes on Wofford in Milwaukee this evening.
***
Aaron Brooks scored 27 points and dished out 17 assists in leading Denver past the visiting Pistons last night, 118-109. Detroit travels to Phoenix tomorrow evening.
DJ Augustin's 20-point performance helped the Bulls win in Philadelphia last night, 102-94. Chicago visits Indiana tomorrow evening.
***
In exhibition baseball yesterday, the Cubs lost to Colorado, 9-6, and the White Sox were outscored by the LA Angels, 14-10. This afternoon, the Tigers face Washington and the Cubs go up against Seattle.