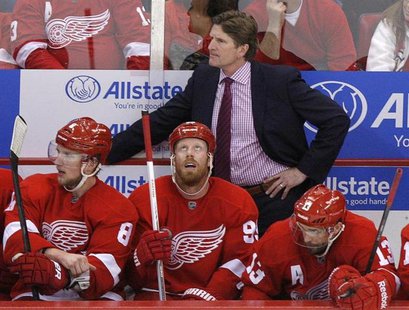 UNDATED (WHTC) - The Red Wings welcome Toronto to Joe Louis Arena in Detroit tonight. Coverage from Hockeytown begins at 7:10 PM on 1450 WHTC.
The Chicago Blackhawks skate in Philadelphia this evening.
***
Exhibition baseball yesterday saw the Tigers' game with Washington rained out; the Cubs split their squad and split their results, beating the LA Angels 4-2, but falling to Oakland, 6-2; and the White Sox shut out Milwaukee, 9-0. Today, the Tigers split their squad, with some playing the New York Mets, while others face Toronto in Lakeland in a contest that is on 1450 WHTC at 1 PM; the Cubs meet Texas; and the White Sox go up against Oakland.
***
Kevin Durant scored 35 points with 12 rebounds as visiting Oklahoma City downed the Bulls last night, 97-85. Chicago travels to Philadelphia tomorrow evening.
***
Eastern Michigan is home to Norfolk State in a first round College Insiders Tournament game tonight.