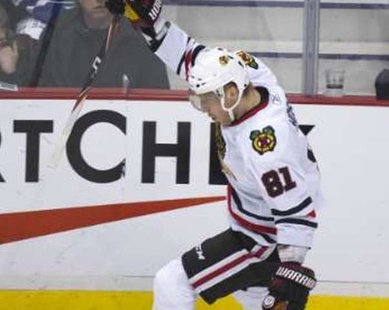 UNDATED (WHTC) - Marian Hossa scored one goal and set up two others as the Blackhawks beat the visiting Red Wings last night, 4-1. Tomorrow evening, while Chicago travels to Philadelphia, Detroit hosts Toronto in a game that you can hear on 1450 WHTC, beginning at 7:10 PM.
***
Exhibition baseball yesterday saw the Tigers get past Washington, 2-1; the Cubs lose to Cleveland, 3-2, but defeat the New York Mets, 6-3; and the White Sox fall to Texas, 14-8. Today, the Tigers play Washington again, with coverage on 1450 WHTC starting at 1 PM; the Cubs split their squad to face Oakland and the Los Angeles Angels; and the White Sox battle Milwaukee.
***
The Chicago Bulls welcome Oklahoma City to the United Center tonight.
***
In the Big 10 Conference basketball tournament finals yesterday, Michigan State downed Michigan, 69-55. NCAA tournament berths were announced shortly after the game, with Thursday contests scheduled for Michigan State versus Delaware in Spokane, Michigan battling Wofford in Milwaukee and Western Michigan against Syracuse in Buffalo.