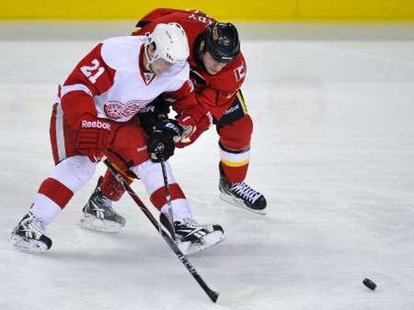 UNDATED (WHTC) - It was double the pleasure for the Red Wings on Friday night as Detroit defeated Edmonton on two hockey fronts. Tomas Tatar scored the lone tally in the shootout as the Wings downed the visiting Oilers, 2-1. Detroit's top farm team, the Griffins, edged Edmonton's primary minor league affiliate Oklahoma City in the Sooner State, 3-2, as Triston Grant's goal at the 3:36 mark of the third period stood up as the game winner. On Saturday evening, Grand Rapids plays the Barons again at the Cox Convention Center, while the Red Wings travel to Chicago on Sunday evening in a game that will be on 1450 WHTC, starting at 7:10 PM.
The Blackhawks come into the contest at the United Center off of a 3-2 Friday night loss at home to Nashville, as Roman Josi set up all three of the markers for the visiting Predators.
***
Exhibition baseball on Friday saw the Tigers defeat Washington, 12-6; the Cubs edge the LA Dodgers, 5-4; and the White Sox play a 2-2 tie with Cleveland. On Saturday afternoon, the Tigers meet Houston in Lakeland, with broadcast time on 1450 WHTC at 1 PM, a split squad of Cubs battle Kansas City, and the White Sox face the LA Dodgers. Saturday evening, it will be split squads of both the Cubs and the New York Mets as they begin a two-game series against each other in Las Vegas.
***
At the American Collegiate Hockey Association national semifinals on Friday, Hope downed Davenport, 2-0. The Flying Dutchmen meet Adrian for the club team title in Coral Springs, Florida on Saturday afternoon.
***
NBA action on Saturday evening finds the Pistons home to Indiana and the Bulls entertaining Sacramento.
***
College basketball tournament play on Friday saw Michigan State beat Northwestern, 67-51, Michigan edge Illinois, 64-63, Western Michigan needing overtime to get past Akron, 64-60, and Toledo handle Eastern Michigan, 59-44. At the Big 10 tournament semifinals in Indianapolis on Saturday afternoon, Michigan meets Ohio State and Michigan State battles Wisconsin. Western Michigan plays Toledo for the Mid-American Conference crown in Cleveland on Saturday evening.