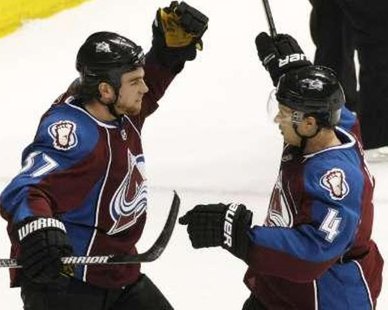 UNDATED (WHTC) - Ryan O'Reilly's goal with nine minutes left stood up as the game-winner, as Colorado held off the visiting Blackhawks last night, 3-2. Chicago entertains Nashville at the United Center tomorrow evening.
The Detroit Red Wings welcome Edmonton to Joe Louis Arena tomorrow night. Coverage on 1450 WHTC begins at 7:10 PM.
***
DeMar DeRozan's 25-point performance helped Toronto defeat the visiting Pistons last night, 101-87. Detroit is home to Indiana at the Palace on Saturday evening.
The Chicago Bulls host Houston at the United Center tonight.
***
Eastern Michigan advanced in the Mid-American Conference basketball tournament by downing Northern Illinois last night, 53-48. The Eagles face Buffalo in a third-round contest at Cleveland this evening.
***
The Grand Rapids Griffins skate in San Antonio against the Rampage tonight.
***
Exhibition baseball yesterday saw the Tigers play a 7-7 draw with the New York Yankees, the Cubs fall in 10 innings to Seattle, 8-7, and the White Sox slip against San Francisco, 4-3. This afternoon, the Tigers meet Miami, the White Sox face the LA Angels, and the Cubs take a day off from competition. Hear the Tigers' spring training game versus Washington tomorrow at 1 PM on 1450 WHTC.