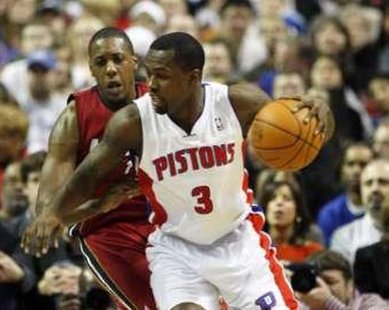 UNDATED (WHTC) - Goals by Boone Jenner and Brandon Dubinski 40 seconds apart, midway through the third period, broke open a 1-1 game, and Columbus went on to defeat the visiting Red Wings last night, 4-1. Detroit is home to Edmonton on Friday evening. Coverage from Joe Louis Arena on 1450 WHTC is at 7:10 PM.
The Chicago Blackhawks skate in Denver against the Colorado Avalanche tonight.
***
Josh Smith scored 24 points and Rodney Stuckey added 23 as the Pistons downed visiting Sacramento last night, 99-89. Detroit travels to Toronto this evening.
Visiting San Antonio handled the Bulls last night, 104-96, as Manu Ginobili tallied 22 points and Tony Parker contributed 20 for the Spurs. Chicago welcomes Houston to the United Center tomorrow evening.
***
At the Mid-American Conference basketball tournament in Cleveland tonight, Eastern Michigan takes on Northern Illinois.
***
Exhibition baseball yesterday saw the Tigers fall in 10 innings to Toronto, 3-2; the Cubs blanked by Colorado, 13-0; and the White Sox outscore Texas, 7-6. Today, Detroit plays the New York Yankees, the Cubs meet Seattle and the White Sox battle San Francisco. Tiger spring training baseball returns to 1450 WHTC on Friday afternoon at 1 PM, when Detroit takes on Washington.