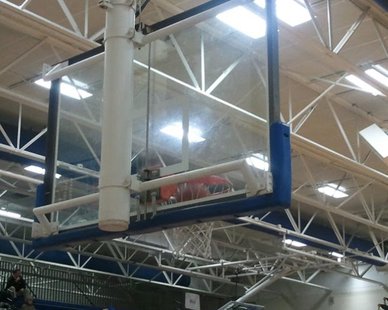 UNDATED (WHTC) - District semifinal action is on tap this evening in the state high school boys' basketball tournament. At the Dutch Dome, Holland entertains Jenison in a game that is on 1450 WHTC and http://whtc.com/listen-live, beginning at 7:40 PM. In the Holland Civic Center, Holland Christian hosts Allendale and Zeeland West battles Unity Christian; both of those contests are on 92.7 The Van and http://927thevan.com/listen-live, starting at 5:40 PM. At Western Michigan Christian in Muskegon, the Warriors welcome Fennville and Black River meets Muskegon Heights. Finally at Holland Christian High, Calvary is home to The Potter's House.
March Magic is over for the high school girls along the Lakeshore, as Holland Christian fell at South Christian last night, 44-38, while Black River had the long ride home from White Pigeon after getting walloped by Gobles, 71-45.
***
Grand Valley State's men are in Houghton to battle Michigan Tech in a GLIAC basketball tournament quarterfinal game this evening.
In state major college basketball last night: Michigan 84, Illinois 53; Western Michigan 61, Northern Illinois 56; Toledo 73, Central Michigan 69; Eastern Michigan 72, Ball State 58; Wisconsin-Milwaukee 83, Detroit 73; and in overtime, Oakland 96, Youngstown State 92.
Hope College begins NCAA Division III tournament action on Friday evening. The Flying Dutch game in Carthage of Wisconsin versus Wisconsin Lutheran is on 1450 WHTC and http://whtc.com/listen-live at 5:40 PM. The Flying Dutchmen entertain Penn State-Behrend in DeVos Fieldhouse on 92.7 The Van and http://927thevan.com/listen-live at 7:10 PM.
***
The Red Wings and Blackhawks each surrendered three third period goals in losing last night. At New Jersey, Stephen Gionta's marker with 37 seconds left lifted the Devils over visiting Detroit, 4-3. In the United Center, Tyson Barrie's goal with 7:10 remaining snapped a 2-2 tie, giving visiting Colorado a 4-2 decision over Chicago. On Thursday evening, while the Blackhawks are home to Columbus, the Red Wings entertain Colorado, with broadcast time from Joe Louis Arena at 7:10 PM on 1450 WHTC.
***
Exhibition baseball yesterday saw Pittsburgh beat the Tigers, 5-2, Oakland defeat the Cubs, 6-4, and Cleveland edge the White Sox, 5-4. This afternoon, the Tigers play Houston in Kissimmee, with coverage on 1450 WHTC at 1 PM, the Cubs battle Colorado and the White Sox face San Diego.
***
The Detroit Pistons and Chicago Bulls meet at the Palace of Auburn Hills tonight.
***
The Grand Rapids Griffins welcome Chicago to Van Andel Arena this evening.