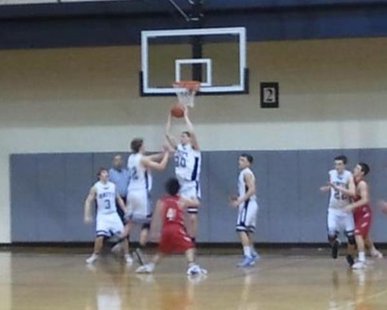 UNDATED (WHTC) - The state high school boys' basketball tournament began on Monday night with first-round district action: Holland 46, West Ottawa 43; Holland Christian 59, Hamilton 37; Jenison 59, Zeeland East 51; Muskegon Heights 72, Saugatuck 59; Fennville 48, North Muskegon 43; Calvary 54, Freedom Christian 37. On Wednesday evening, hear the Jenison at Holland game at 7:40 PM on 1450 WHTC and http://whtc.com/listen-live; the Allendale-Holland Christian and Zeeland West-Unity Christian contests from the Holland Civic Center will be on 92.7 The Van and http://927thevan.com/listen-live, starting at 5:40 PM.
In the state high school girls' basketball tournament regional semifinals on Tuesday night, Holland Christian visits South Christian and Black River battles Gobles at White Pigeon.
***
Hope College received its NCAA Division III basketball tournament marching orders on Monday. The Flying Dutchmen will host first-round action on Friday evening, welcoming Penn State-Behrend to DeVos Fieldhouse, with broadcast time on 92-7 The Van and http://927thevan.com/listen-live at 7:10 PM, while the Flying Dutch are at Carthage of Wisconsin to battle Wisconsin-Lutheran, also on Friday evening, with coverage on 1450 WHTC and http://whtc.com/listen-live at 5:40 PM.
In state major college basketball on Tuesday evening: Michigan is at Illinois; Western Michigan hosts Northern Illinois; Central Michigan hosts Toledo; Eastern Michigan hosts Ball State; Detroit is at Wisconsin-Milwaukee; Oakland hosts Youngstown State.
***
NHL play on Tuesday night finds the Detroit Red Wings in New Jersey, with broadcast time at 6:40 PM on 1450 WHTC, and the Chicago Blackhawks hosting Colorado at the United Center.
***
Andre Drummond scored 17 points and grabbed 26 rebounds in leading the Pistons past visiting New York on Monday night, 96-85. Detroit hosts the Bulls at the Palace on Wednesday evening. Chicago comes to Auburn Hills off of a 96-80 loss at Brooklyn on Monday night, as Deron Williams had 20 points for the Nets.
***
Exhibition baseball on Monday saw the Tigers beat St. Louis, 8-5; the Cubs beat Milwaukee, 4-2; and the White Sox beat Kansas City, 9-7. On Tuesday, the Tigers play Pittsburgh, with coverage on 1450 WHTC at 1 PM; the Cubs battle Oakland; and the White Sox face Cleveland.