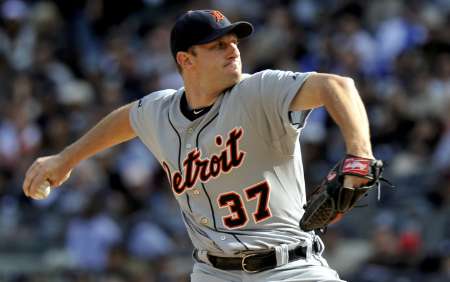 UNDATED (WHTC) --
Ian Kinsler hit a three-run bomb with two outs in the top of the ninth to give the Tigers the lead and eventual 4-3 win over the Astros at Minute Maid Park on Saturday. Eugenio Suarez collected three hits and drove in a run for Detroit, which has won eight of nine. Max Scherzer racked up 13 strikeouts in a seven inning no-decision with Phil Coke grabbing the win, and Joe Nathan earning his 17th save. The Tigers face the Astros again this afternoon. Hear the action from Minute Maid Park starting at 1:45 P.M. on 1450 WHTC.
The Cubs were swept by the Nationals in a doubleheader at Wrigley Field on Saturday. Dallas Beeler gave up an unearned run across six frames, but took the loss, 3-0, for the Cubs. In the second game, Jeff Samardzija got hammered for five earned runs in five frames to fall to 2-and-7 on the season. The Cubs head to Boston for a night game tonight.
The White Sox held off the Toronto Blue Jays on Saturday, with Dayan Viciedo hitting a three-run homer in the seventh to vault the White Sox to a 4-3 win. Chris Sale tossed seven innings of two-run ball while Zach Putnam notched his first save despite allowing a run over the last four outs. The Sox take on the Jays again this afternoon.
The West Michigan Whitecaps blasted a pair of home runs and pitched another gem on Saturday night, treating a season-high crowd of 9,021 to a 3-1 victory over the Bowling Green Hot Rods at Fifth Third Ballpark. The series continues this afternoon at Fifth Third Ballpark.
Holland Millers pitcher Curry Thomas was untouchable on Saturday, leading his team to an 11-0 win over Motor City Pride.
*****
Brad Keselowski drove to victory lane in the Quaker State 400 at Kentucky Speedway on Saturday night. It's his second victory of the season and the 12th of his career. Keselowski dominated, leading 199 of the 267 laps at the mile-and-a-half track. Kyle Busch finished second while Ryan Newman posted a third-place run. Matt Kenseth and Dale Earnhardt Jr. rounded out the top-five. The Sprint Cup Series heads to Florida next Saturday for the Coke Zero 400 under the lights at Daytona International Speedway.