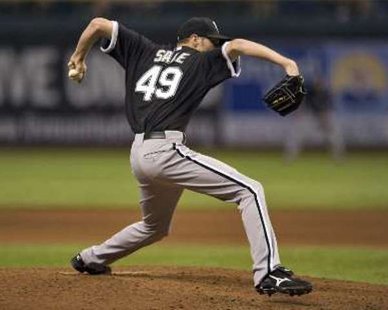 UNDATED (WHTC) - Roenis Elias tossed a three-hit shutout, striking out eight, as Seattle blanked the visiting Tigers yesterday, 4-0. Detroit hosts Toronto at Comerica Park tomorrow night. Coverage on 1450 WHTC is at 6:40 PM.
Kyle Lohse tossed a three-hit shutout, striking out six, as Milwaukee blanked the visiting Cubs yesterday, 9-0. Chicago hosts the New York Mets at Wrigley Field tomorrow evening.
Chris Sale tossed a two-hitter, striking out nine, as the White Sox handled visiting San Diego yesterday, 4-1. Chicago plays the Dodgers in Los Angeles tonight.
***
Jeff Holm drove in five runs, while Raph Rhymes and Willy Adames each knocked in four, as the Whitecaps had their most-lopsided victory in team history yesterday by winning at Fort Wayne, 19-1. The series at Parkview Field concludes this evening. Coverage on 1450 WHTC and http://whtc.com/listen-live is at 6:55 PM.
***
Alec Martinez' goal at the 5:47 mark of overtime enabled visiting Los Angeles to eliminate the defending champion Blackhawks from the NHL Stanley Cup playoffs at the United Center in Chicago last night, 5-4. The Kings won the best-of-seven Western Conference Finals, four games to three.