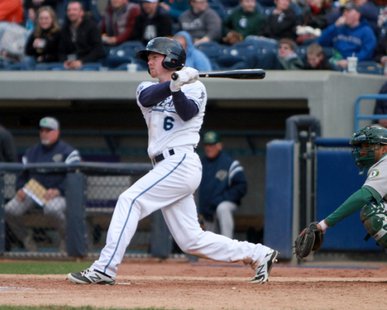 UNDATED (WHTC) - Omar Infante's two-run single broke a 2-2 tie and highlighted a five-run seventh inning rally for Kansas City on Sunday, as the Royals salvaged the finale of a four-game series from the visiting Tigers at Kauffman Stadium, 5-2.
Chris Johnson had three hits, including a homer, drove in three runs and scored three times in sparking visiting Atlanta on Sunday to a 10-7 victory over the Cubs at Wrigley Field.
Yan Gomes' two-run homer in the eighth inning on Sunday lifted Cleveland over the visiting White Sox at Progressive Field, 3-2.
Major League Baseball now pauses for Tuesday night's All-Star Game at Minnesota. The visiting National League will feature Starlin Castro and Anthony Rizzo of the Cubs, while the host American League has Miguel Cabrera, Ian Kinsler and Max Scherzer from the Tigers, along with Jose Abreu, Alexei Ramirez and Chris Sale from the White Sox.
Regular season action resumes on Friday evening. The Tigers host Cleveland, with coverage on 1450 WHTC at 6:40 PM; the Cubs visit Arizona; and the White Sox are home to Houston.
***
Raph Rhymes' two-run double in the seventh inning enabled the Whitecaps to outscore the Dragons in Dayton on Sunday, 6-4. West Michigan goes for the series sweep at Fifth Third Field on Monday night. Hear the game on 1450 WHTC and http://whtc.com/listen-live, starting at 6:50 PM.
***
The Holland Millers are in Muskegon to face the Clippers in Michigan Collegiate Baseball League play on Monday evening.