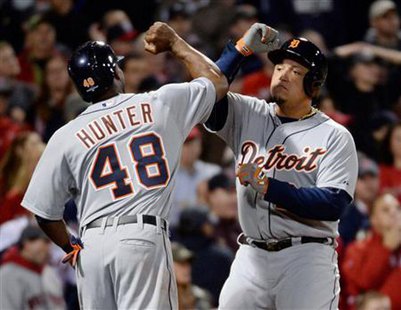 UNDATED (WHTC) - Torii Hunter homered and drove in three runs as the Tigers walloped the Royals in Kansas City last night, 16-4. The four-game series at Kauffman Stadium continues this evening. Coverage on 1450 WHTC is at 7:45 PM.
Luis Valbuena's two-run triple in the top of the 12th inning yesterday enabled the Cubs to salvage the finale of a five-game series in Cincinnati, 6-4. Chicago hosts Atlanta this afternoon to open up a three-game series at Wrigley Field.
Mike Carp's single in the bottom of the 10th inning yesterday enabled Boston to salvage a four-game series split with the visiting White Sox, 4-3. This evening, Chicago begins a three-game series at Cleveland.
***
Elias Torres doubled home two runs in the bottom of the eighth inning last night as Bowling Green completed a three-game series sweep of the visiting Whitecaps, 5-4. West Michigan travels to Dayton for the start of a four-game series at Fifth Third Field this evening.