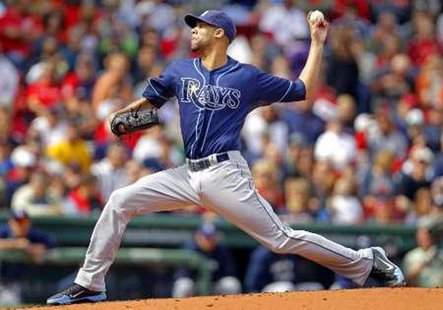 UNDATED (WHTC) - David Price allowed seven hits and struck out six in nearly going the distance, as he pitched visiting Tampa Bay past the Tigers last night, 7-3. Detroit hosts the Los Angeles Dodgers at Comerica Park tomorrow evening. Coverage on 1450 WHTC begins at 6:40 PM.
Ryan Zimmerman's single in the bottom of the eighth inning drove in the winning run as Washington edged the visiting Cubs yesterday, 2-1. Chicago begins a five-game series in Cincinnati tonight.
Adam Dunn's bases-loaded walk in the first inning plated the lone run of the game, and Hector Noesi made the slim advantage stand up by scattering five hits with five strikeouts over nearly seven frames, as the White Sox edged visiting Seattle yesterday, 1-0. Chicago opens up a four-game series at Boston this evening.
Major League Baseball yesterday announced the rosters for next Tuesday's All-Star Game in Minneapolis. Miguel Cabrera starts at first base for the American League, and he'll be joined by fellow Tigers Max Scherzer and Victor Martinez, along with Jose Abreu and Alexei Ramirez of the White Sox. On the National League squad, Starlin Castro will represent the Cubs, as Jeff Samardzija will attend but not be eligible to play after a trade to Oakland over the weekend.
***
Jeff Holm homered and drove in three runs, and the Whitecaps used a five-run fifth inning to complete a weekend series sweep at Fort Wayne yesterday, 7-6. West Michigan starts a three-game set at Bowling Green tomorrow night.