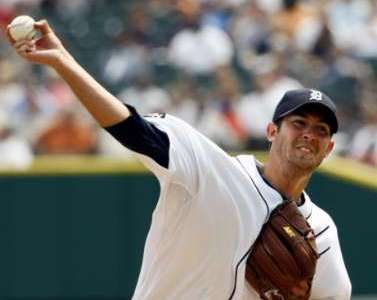 UNDATED (WHTC) - Rick Porcello fired a four-hit shutout and didn't strike out anybody as the Tigers grounded visiting Oakland last night, 3-0. Detroit goes for the series sweep of the Athletics at Comerica Park this afternoon. Coverage on 1450 WHTC is at 12:40 PM.
Luis Valbuena's sacrifice fly in the ninth inning plated the winning run as the Cubs edged the Red Sox in Boston last night, 2-1. Chicago goes for the series sweep at Fenway Park this evening.
The visiting Los Angeles Angels had 10 men drive in runs during a doubleheader sweep of the White Sox last night. Mike Trout and Albert Pujols hit back-to-back homers in the fifth inning of the opener during an 8-4 triumph. Kole Calhoun and Howie Kendrick each drove in two as part of a 7-5 victory in the nightcap. Chicago looks to avoid a series sweep at US Cellular Field this evening.
***
Raph Rhymes had four hits, including a homer, and drove in four runs, as the Whitecaps beat visiting Lansing last night, 12-4. The series at Fifth Third Ballpark continues this evening. Hear the game on 1450 WHTC and http://whtc.com/listen-live, beginning at 6:50 PM.
***
The Holland Millers travel to Davenport's main Caledonia campus to play River City in Michigan Collegiate Baseball League action tonight.