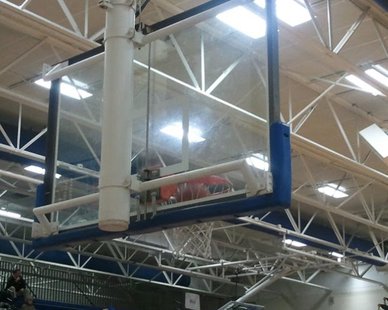 UNDATED (WHTC) - With one exception, all of last night's high school basketball games were played. Snow-drifted roads and biting wind chills compelled officials of both Hamilton High and Unity Christian High to cancel games between their teams; no make-up dates were immediately announced.
Boys' results: Holland 67, Zeeland West 55; Holland Christian 71, Black River 53; West Ottawa 62, Muskegon Catholic Central 51; Fennville 60, Bloomingdale 27; and Potter's House 74, Black River 19.
Girls' results: Holland 37, Zeeland West 30; Holland Christian 55, Byron Center 45; West Ottawa 66, Muskegon Catholic Central 52; and Potter's House 57, Black River 35.
Saugatuck has a girls/boys doubleheader at Martin this evening.
Tomorrow night, hear the Holland at Hamilton boys' game on 1450 WHTC and http://whtc.com/listen-live at 7:10 PM, and the Bloomingdale at Saugatuck girls/boys doubleheader on 92.7 The Van and http://927thevan.com/listen-live at 5:10 PM.
***
Hope College won a pair of basketball games at home last night. Brittany Berry scored 20 points as the women defeated Olivet in the opener, 70-58. Alex Eidson's 16 points helped the men down Adrian in the nightcap, 82-56. On Saturday afternoon, the men are at Trine, with broadcast time on 92.7 The Van and http://927thevan.com/listen-live at 12:40 PM, and the women entertain Calvin at DeVos Fieldhouse.
Grand Valley State's men and women are at Saginaw Valley State this evening.
In state major college basketball last night: Buffalo 84, Western Michigan 63; Ohio U. 71, Central Michigan 67; Eastern Michigan 63, Bowling Green State 57; and Detroit 74, Ilinois-Chicago 68. This evening, Michigan is home to Purdue.
***
Brandon Saad scored twice and had an assist as the Blackhawks won at Vancouver last night, 5-2. Chicago skates at San Jose on Saturday evening.
***
Inclement weather compelled the NBA to postpone the Pistons' game at Atlanta last night. No make-up date was immediate announced. Detroit is home to Philadelphia on Saturday evening.
Jimmy Butler tossed in 19 points as the Bulls were triumphant at San Antonio last night, 96-86. Chicago visits New Orleans on Saturday evening.