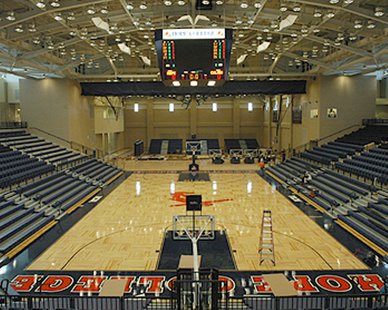 UNDATED (WHTC) - After Saturday's postponement due to winter storms, officials of Hope College were hoping to get the rescheduled basketball games involving the Flying Dutch and the Flying Dutchmen played this evening, with the women in Alma, and the men welcoming Kalamazoo to DeVos Fieldhouse. However, another round of postponements were announced just before 12 Noon today, with no new immediate make up dates announced.
In state major college basketball yesterday, Western Michigan defeated Ball State, 62-53, and Detroit fell at Wisconsin-Green Bay, 62-52.
***
Tomorrow evening at 6:40 PM on 1450 WHTC and http://whtc.com/listen-live, catch the Zeeland West at Holland boys' contest.
***
Nick Bjugstad tallied the only marker in the shootout as visiting Florida beat the Red Wings last night, 5-4. Detroit skates at Philadelphia tomorrow evening.
Former Blackhawk Andrew Ladd's goal with 7:07 left was the game-winner, as visiting Winnipeg scored three times in the third period to beat the Hawks last night, 3-1. Chicago travels to Calgary tomorrow evening.
***
Dirk Nowitzki's 28 points enabled Dallas to down the visiting Pistons last night, 116-106. Detroit welcomes Orlando to the Palace tomorrow evening.
The Chicago Bulls are home to Minnesota at the United Center tonight.
***
John McFarland's goal with 1:28 left in regulation tied the contest, and his tally at the 4:44 mark of overtime gave San Antonio a 6-5 victory over the visiting Griffins last night. Grand Rapids entertains Chicago at Van Andel Arena on Friday evening.