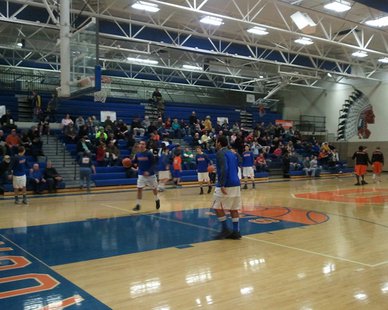 UNDATED (WHTC) - There were two high school basketball doubleheaders played last night along the Lakeshore, rescheduled from last month due to snow. Holland Christian swept a pair from East Grand Rapids, with the boys winning at the Holland Civic Center, 72-49, and the girls victorious in EGR, 60-38. Fennville split two at Saugatuck, with the Indian boys winning the opener, 72-57, but the Lady Blackhawks taking the nightcap, 57-45.
This evening, a full slate of action is on tap, with all 10 local schools sending both their boys and girls out onto the court. We'll carry the West Catholic at Zeeland West boys' game on 1450 WHTC and http://whtc.com/listen-live, beginning at 6:40 PM, and the entire Marcellus at Saugatuck doubleheader on 92.7 The Van and http://927thevan.com/listen-live, starting at 5:10 PM.
Other twin-bills include Fennville at Decatur and Black River versus Calvary at the Holland Civic Center, while West Ottawa and Greenville split their games (boys in Greenville, girls at West Ottawa), along with Hamilton and Allendale (boys at Allendale, girls at Hamilton). Individual contests are: Holland's boys at East Kentwood and Holland Christian's boys at Western Michigan Christian; Holland's girls at Fruitport, Holland Christian's girls hosting Hudsonville, Zeeland East's girls are home to Grandville, and Zeeland West's girls visit Covenant Christian.
***
Barret Jackman and Kevin Shattenkirk scored goals in the first three minutes of the second period to break open a 1-1 tie, and visiting St. Louis went on to defeat the Red Wings last night, 4-1. Detroit welcomes the Chicago Blackhawks to Joe Louis Arena tomorrow evening. Coverage from Hockeytown on 1450 WHTC begins at 7:40 PM.
***
Jamal Crawford's 26 points helped the visiting Los Angeles Clippers in beating the Pistons yesterday, 112-103. Detroit travels to Milwaukee tomorrow evening.
Taj Gibson's layup at the buzzer enabled the Bulls to edge the visiting Los Angeles Lakers in overtime last night, 102-100. Chicago plays in Cleveland tomorrow evening.
***
College basketball tonight finds Michigan State home to Indiana. Catch Hope College in action tomorrow evening at 7:10 PM on 92.7 The Van and http://927thevan.com/listen-live, as the Flying Dutchmen play at Alma.