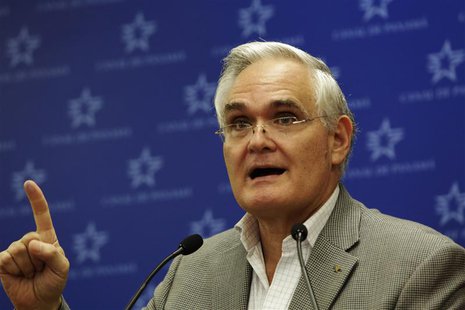 By Lomi Kriel and Elida Moreno
PANAMA CITY (Reuters) - The Panama Canal and a Spanish-led building consortium expanding the major world cargo route are haggling over financing to keep work going amid a cost dispute, raising hopes of a deal.
Building consortium Grupo Unidos por el Canal (GUPC), led by Spanish construction company Sacyr, has threatened to stop work on part of a project to widen and deepen the canal that was originally expected to cost about $5.25 billion.
Halting construction would be a setback for companies eager to move larger ships through the century-old waterway such as liquefied natural gas (LNG) producers who want to ship exports from the U.S. Gulf coast to Asian markets.
"The Panama Canal can't have this work stopped," the canal authority's head, Jorge Quijano, told reporters in Panama City on Tuesday. "And we have to do everything necessary to continue with the project."
Last week, the building consortium threatened to stop work on January 20 unless it was paid for $1.6 billion in cost overruns, which could put the overall project bill at close to $7 billion.
The Panama Canal Authority and the consortium both presented proposals on Tuesday to finance further construction, but it was unclear how close they were to making an agreement.
While they are disputing who should pay for the overruns, both have agreed to put up at least $100 million each to keep the project running.
The canal authority proposed that it and the consortium would each put up $100 million, while the canal would give the group more time to repay $83 million that was advanced to them, or a total of $283 million in joint financing.
The canal is also asking the group to process its $1.6 billion claim separately through arbitration panels.
The building consortium GUPC responded by saying it would put up $100 million but that the canal administrator would need to contribute $400 million.
The canal authority had no immediate comment on the consortium's offer, which also calls on the canal authority to extend a moratorium on the repayment of a $784 million cash advance already paid out until arbitration ends.
Work on the expansion, which will create a new lane of traffic along the canal and double the waterway's capacity, began in 2007, and the project is 72 percent complete, according to the Panama Canal Authority's website.
The consortium, which also includes Italy's Salini Impregilo, Belgium's Jan De Nul and Panama's Constructora Urbana, said last week it had faced the added costs due to unforeseen setbacks in the $3.2 billion project to build a third set of locks for the canal.
The group said flawed geological studies carried out by the Panama Canal Authority were responsible for the cost overruns. The authority has not yet responded.
THIRD PARTY?
If the parties fail to reach an agreement, the project could potentially be offered up to other companies.
Bechtel, a U.S. engineering company that lost out in the original bidding process, declined to comment when asked if it was ready to step into the project if the opportunity arose.
A source close to the consortium speculated that Bechtel was waiting to step in but said the GUPC considers that it has a very strong bargaining position given contractual clauses.
On Monday, Spain's ambassador to Panama said his country's government will not provide any financing.
Sacyr won the canal contract in 2009 with an offer considerably below the main rival bids and also below the $3.48 billion reference set by the canal authority. U.S. diplomatic cables published by Wikileaks showed President Ricardo Martinelli's government was worried about progress before six months had passed.
Sacyr, whose debts at the end of September were three times its market capitalization, made 55 percent of revenue outside Spain in the first nine months of 2013. Panama contributed 25 percent of its 1.3 billion euros ($1.78 billion) in international sales, according to its 2013 nine-month earnings statement.
Sacyr shares closed up 4.7 percent on Tuesday, extending a rebound on heavy volume of 17.8 million shares after falling sharply when the dispute flared in early January.
(Additional reporting by David Adams in Miami, Fiona Ortiz in Madrid and Gabriel Stargardter, Dave Graham and Julia Symmes Cobb in Mexico City and Danilo Masoni in Milan; Editing by Ken Wills)