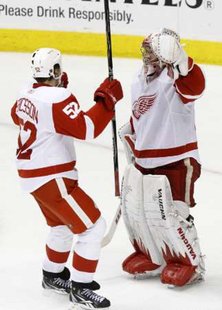 Jimmy Howard made 44 saves to lead the Red Wings to a 5-1 win over the Stars at American Airlines Center. Henrik Zetterberg scored twice for Detroit, which had lost three of its previous four games.
The Blackhawks host the San Jose Sharks at the United Center this evening.
******
Despite a second-period rally by the Grand Rapids Griffins, a three-goal deficit was too large to overcome and the Rockford IceHogs got a 4-2 win Saturday. The Griffins will be seeing the IceHogs later this week for a game on Wednesday at Van Andel Arena.
*****
After a six day rest period, the Pistons get back in action this afternoon, hosting the Memphis Grizzlies at The Palace.
Three Bulls recorded double-doubles, and Mike Dunleavy led Chicago with 20 points in a 91-84 win over the Hawks at the United Center. Taj Gibson and Joakim Noah scored 10 points and grabbed 12 rebounds each while Luol Deng finished with 17 points and 11 boards.
*****
The Hope men's basketball team capped nonleague play with a 68-64 win against Edgewood (Wis.) on Saturday at home. The Flying Dutchmen pushed their win streak to a season-high three games as they improved to 6-5 overall. They tip off Michigan Intercollegiate Athletic Association (MIAA) play next Wednesday when they host Trine.
Guard Megan Kelley scored a game-high 17 points and forward Maura McAfee added a double-double as the nationally ranked Hope women's basketball team won at Trine 82-38 on Saturday.
The Grand Valley State men's basketball team outscored No. 12 Findlay 29-14 down the stretch and shot 76.5 percent from the field in the second half to come away with an 81-76 victory on Saturday.
The Lady Lakers turned in their best shooting performance of the 2013-14 season to pull away from Findlay in the second half of a 77-68 victory.
Gary Harris posted a game-high 26 points as No. 5 Michigan State had an easy time with Indiana, taking away a 73-56 victory at Assembly Hall. Keith Appling added 14 points and Branden Dawson contributed 13 with six rebounds for the Spartans, winners of six in a row heading into a matchup with Ohio State on Tuesday in East Lansing.
*****
The New Orleans Saints turned to their run game and drastically improved defense in frigid Philadelphia and ended their road hex in the playoffs. Shayne Graham nailed a game-winning 32-yard field goal as time expired and the Saints defeated the Philadelphia Eagles 26-24 in the NFC Wild Card Round on Saturday night.
T.Y. Hilton hauled in a 64-yard touchdown pass from Andrew Luck with less than five minutes to play to help the Colts complete the second-largest comeback in postseason history and beat the Chiefs 45-44 in the Wild Card round from Lucas Oil Stadium. The AFC South champion Colts were down by 28 points early in the third quarter but scored 35 points after halftime to advance and play next weekend.
Today, catch the San Diego - Cincinnati game on 1450 WHTC with game coverage beginning at 12:30 p.m. The late game is Green Bay, with the Packers hosting San Francisco.
Story by: Diane E Coston