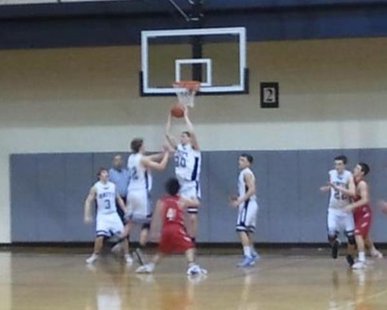 UNDATED (WHTC) - In high school boys' basketball last night: Holland 55, Stevensville Lakeshore 39; Holland Christian 54, Grandville 32; West Ottawa 55, Plainwell 44; Jenison 61, Zeeland East 29; Zeeland West 51, Coopersville 48; Hamilton 70, Middleville 60; Tri-unity Christian 50, Saugatuck 45; Fennville 73, Black River 33; and Howardsville Christian 61, Calvary 58. On the girls' side: Muskegon 53, Holland 22; Holland Christian 40, Grand Rapids Christian 29; Coopersville 37, Zeeland West 32; Hamilton 45, Caledonia 30; and Black River 64, Fennville 42.
Today in boys' play, Holland takes on Mount Pleasant at DeVos Fieldhouse, while Calvary hosts West Michigan Aviation at Holland Christian High. This Tuesday evening, hear the Muskegon Catholic Central at West Ottawa boys' game on 1450 WHTC and http://whtc.com/listen-live at 6:40 PM, while the Hartford at Saugatuck boys/girls doubleheader airs at 5:10 PM on 92.7 The Van and http://927thevan.com/listen-live.
***
Hope College sends both of its basketball teams out into action today. While the women have a league matinee at Trine, the Flying Dutchmen host Edgewood in non-conference play this evening, with coverage from DeVos Fieldhouse on 92.7 The Van and http://927thevan.com/listen-live at 6:40 PM.
Grand Valley State has a men's/women's doubleheader at the Fieldhouse Arena in Allendale this afternoon, entertaining Findlay in GLIAC action.
In state major-college basketball last night, Central Michigan defeated Marygrove, 127-44. Today, Michigan State visits Indiana, Eastern Michigan hosts Rochester, and Detroit is home to Wright State; Oakland is home to Valparaiso this evening.
***
The Detroit Red Wings are in Dallas to face the Stars this evening. Catch the game on 1450 WHTC at 7:40 PM, following the 4 PM broadcast of the NFL playoff game between the Colts and Kansas City from Indianapolis.
Patrick Sharp scored three goals as the Blackhawks won at New Jersey last night, 5-3. Chicago is home to San Jose at the United Center tomorrow evening.
***
NBA play this evening finds the Chicago Bulls welcoming Atlanta to the United Center.
***
Thomas McCollum made 27 saves to earn first star honors, backstopping the Griffins to a 3-1 victory over visiting Chicago last night. Grand Rapids is in Illinois to face the IceHogs at Rockford this evening.