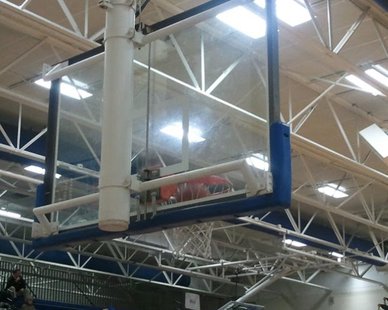 UNDATED (WHTC) - In high school boys' basketball along the Lakeshore last night, West Ottawa fell to Jenison, 50-41, and Zeeland East beat Plainwell, 54-41. This evening, it's a holiday tournament doubleheader at Zeeland East on 1450 WHTC and http://whtc.com/listen-live, beginning at 5:40 PM with West Ottawa versus Plainwell, followed by the Chix hosting Jenison. Other prep action includes Holland versus Stevensville-Lakeshore at DeVos Fieldhouse; Holland Christian hosting Grandville at the Civic Center; Zeeland West at Coopersville; Hamilton at Middleville; Saugatuck versus Tri-unity Christian at Cornerstone University; Black River at Fennville; and Calvary hosting Howardsville Christian at Holland Christian.
High school girls' basketball last night saw Hamilton win at Hudsonville, 47-35. This evening, Holland hosts Muskegon; Holland Christian welcomes Grand Rapids Christian to the Civic Center; Hamilton meets Caledonia at Hudsonville; Black River is at Fennville; and Calvary entertains Howardsville Christian at Holland Christian.
***
Grand Valley State split a basketball doubleheader with visiting Hillsdale last night. Kat LaPrairie's 18 points enabled the women to down the Chargers in the opener, 80-69, but despite 18 points from Ryan Sabin, the GVSU men fell to the guests in the nightcap, 68-66. Both of the Lakers' teams are home to Findlay tomorrow afternoon at the Fieldhouse Arena in Allendale.
In state major college basketball last night: Michigan won at Minnesota, 63-60; Western Michigan handled Siena Heights, 83-47; and Oakland lost in Dayton to Wright State, 76-64. This evening, Central Michigan is home to Marygrove.
Hope College's Flying Dutchmen entertain Edgewood at DeVos Fieldhouse tomorrow night. Hear the game on 92.7 The Van and http://927thevan.com/listen-live is at 6:40 PM. Hope's women are at Trine tomorrow afternoon.
***
Kyle Okposo's goal 58 seconds into overtime lifted the New York Islanders past the visiting Blackhawks last night, 3-2. Chicago skates at New Jersey this evening.
The Red Wings travel to Dallas tomorrow night. Coverage on 1450 WHTC is slated for 7:40 PM, following Kansas City at Indianapolis NFL playoff football action that airs at 4 PM.
***
Joakim Noah's 17-point, 11-rebound, nine-assist performance sparked the Bulls to beat visiting Boston last night, 94-82. Chicago is home to Atlanta at the United Center tomorrow evening.
***
The Grand Rapids Griffins welcome Chicago to Van Andel Arena tonight.
***
Catch a NFL playoff doubleheader on 1450 WHTC this Sunday, beginning at 12:30 PM with San Diego at Cincinnati, followed by San Francisco at Green Bay.