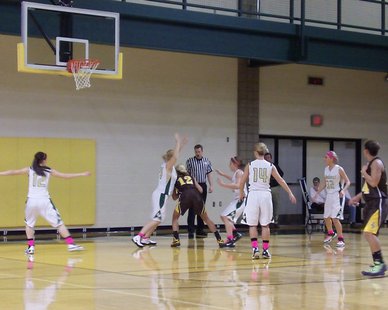 UNDATED (WHTC) - The state high school girls' basketball tournament begins tonight, with Holland at West Ottawa, Allendale at Zeeland West, Wyoming at Zeeland East, Saugatuck at North Muskegon, and Black River at Muskegon Heights. In boys' action this evening, Saugatuck visits Martin. Tomorrow night at 6:40 PM, hear the West Ottawa versus Holland Christian boys' game from the Holland Civic Center on 1450 WHTC and http://whtc.com/listen-live, or the Martin at Saugatuck boys' contest on 92.7 The Van and http://927thevan.com/listen-live.
***
In state major college basketball yesterday: Michigan defeated Michigan State, 79-70; Western Michigan beat Eastern Michigan, 75-67; and Central Michigan downed Northern Illinois, 70-67. MIAA tournament play begins on Wednesday evening for Hope's men, as they host Trine, and on Thursday night for Hope's women, as they entertain Adrian. Both contests will air on 92.7 The Van and http://927thevan.com/listen-live, beginning at 7:10 PM.
***
Chris Bosh scored 28 points and grabbed 10 rebounds in leading Miami past the visiting Bulls yesterday, 93-79. Chicago travels to Atlanta tomorrow evening.
The Detroit Pistons welcome Golden State to the Palace tonight.
***
Brendan Evans' marker in the fifth round of the shootout enabled the Griffins to outlast visiting Milwaukee yesterday, 1-0. The two teams have a rematch at the Kohl Center on Wednesday evening.
The Detroit Red Wings return from the Olympics break on Wednesday night, playing the Canadiens in Montreal. Broadcast time on 1450 WHTC is at 7:10 PM.
***
The Detroit Tigers start Grapefruit League exhibitions on Wednesday afternoon at Walt Disney World in Lake Buena Vista versus Atlanta. Coverage on 1450 WHTC begins at 1 PM.