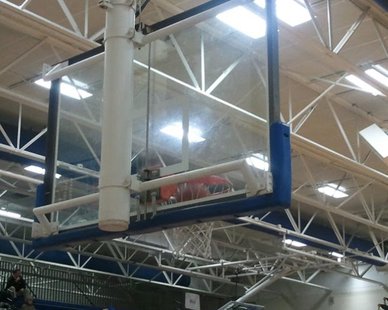 UNDATED (WHTC) - A full slate of high school basketball games was played along the Lakeshore last night.
Boys' results: Unity Christian 54, Holland 51; Zeeland West 63, Holland Christian 55; Rockford 53, West Ottawa 45; Mona Shores 42, Zeeland East 40; Hamilton 57, Byron Center 46; Watervliet 78, Saugatuck 65; Fennville 56, Hartford 27; Fruitport Calvary 75, Black River 55; and Calvary Schools of Holland 58, Algoma Christian 47.
Girls' results: Unity Christian 51, Holland 16; Holland Christian 61, Zeeland West 25; West Ottawa 37, Rockford 18; Mona Shores 50, Zeeland East 23; Hamilton 54, Byron Center 43; Saugatuck 43, Watervliet 35; Hartford 50, Fennville 48; Fruitport Calvary 46, Black River 30; and Calvary Schools of Holland 44, Algoma Christian 24.
This Friday evening at 7:10 PM on 1450 WHTC and http://whtc.com/listen-live, catch the Grandville at West Ottawa boys' game.
***
Hope College's basketball teams are in action tonight. While the Flying Dutch travel to Kalamazoo, the Flying Dutchmen host Calvin in a game that is on 92.7 The Van and http://927thevan.com/listen-live at 7:40 PM.
In state major college basketball this evening: Michigan entertains Nebraska; Western Michigan is home to Ohio U.; Central Michigan welcomes Kent State to Mount Pleasant; and Eastern Michigan travels to Akron.
***
Carlos Boozer scored 19 points with 12 rebounds as the Bulls won in Phoenix last night, 101-92. Chicago plays Golden State in Oakland tomorrow evening.
The Detroit Pistons are in Orlando tonight.
***
On the ice this evening: The Chicago Blackhawks skate at Anaheim; and the Grand Rapids Griffins host the Lake Erie Monsters at Van Andel Arena. The Detroit Red Wings face the Florida Panthers in Miami tomorrow night, with broadcast time on 1450 WHTC at 7:10 PM.