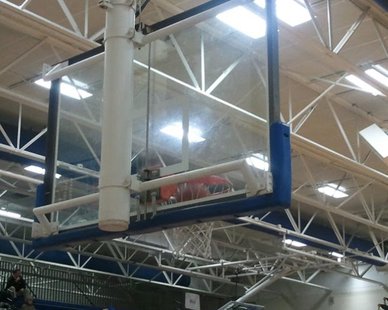 UNDATED (WHTC) - There was plenty of high school basketball action along the Lakeshore on Friday night.
Boys' results: Holland 53, Hamilton 45; Holland Christian 61, Unity Christian 53; Grand Haven 55, West Ottawa 34; Zeeland East 73, Reeths-Puffer 50; Zeeland West 72, Byron Center 56; Saugatuck 72, Bloomingdale 8 (no typo); Fennville 70, Gobles 46; Zion Christian 68, Black River 18.
Girls' results: Hamilton 55, Holland 25; Holland Christian 46, Unity Christian 41; West Ottawa 37, Grand Haven 23; Zeeland East 43; Reeths-Puffer 41; Byron Center 34, Zeeland West 29; Saugatuck 51, Bloomingdale 30; Gobles 70, Fennville 29; Black River 44, Zion Christian 40.
On Tuesday evening, the Holland Christian at Zeeland West boys' game is on 1450 WHTC and http://whtc.com/listen-live at 6:40 PM, while the Watervliet at Saugatuck girls/boys doubleheader is on 92.7 The Van and http://927thevan.com/listen-live at 5:10 PM.
***
Hope College coach Matt Neil had his Flying Dutchmen leave Holland after Friday afternoon's practice in order to reach Angola, Indiana ahead of the forecasted winter storm and to play Trine on Saturday. Coverage on 92.7 The Van and http://927thevan.com/listen-live begins at 12:40 PM.
Weather permitting, Hope College's women hosts Calvin at DeVos Fieldhouse on Saturday afternoon.
Grand Valley State's men and women are in Detroit to face Wayne State on Saturday.
In state major college basketball on Friday night, Detroit lost to Cleveland State, 86-78, and Oakland edged Youngstown State, 86-85. On Saturday afternoon, Michigan State plays Georgetown in New York's Madison Square Garden, Western Michigan entertains Central Michigan, and Eastern Michigan travels to Miami-Ohio.
***
Patrick Eaves' marker in the seventh round of the shootout was the lone goal in that extra stanza, enabling the Red Wings to outlast visiting Washington on Friday night, 4-3. The two teams have a rematch in the Nation's Capital on Sunday, with broadcast time on 1450 WHTC at 12:10 PM, ahead of Super Bowl 48 coverage on Holland's Hometown Station.
The Chicago Blackhawks are in San Jose to meet the Sharks on Saturday evening.
***
NBA play on Saturday night finds the Detroit Pistons home to Philadelphia at the Palace and the Chicago Bulls facing the Pelicans in New Orleans.
***
Adam Cracknell scored twice and set up another goal in leading visiting Chicago past the Griffins on Friday night, 6-2. Grand Rapids skates at Milwaukee against the Admirals on Saturday afternoon.