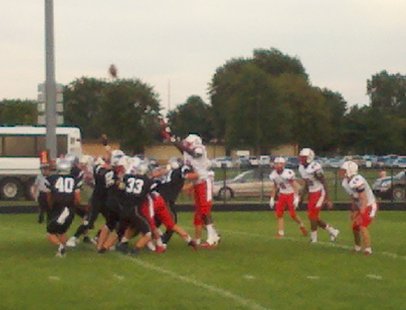 UNDATED (WHTC) - The high school football season began along the Lakeshore last night, with these results: Reeths-Puffer 41, Holland 27; Forest Hills Eastern 42, Holland Christian 13; Canton 31, West Ottawa 21; Zeeland West 47, Country Day 20; Middleville 38, Hamilton 7; Blanchard Montabella 52, Saugatuck 22; and Fennville 18, Lawton 0. This evening, Zeeland East hosts Detroit Loyola, with broadcast time on 1450 WHTC and WHTC.com at 6:40 PM.
***
The college football season began across the country last night, with Central Michigan beating visiting Chattanooga, 20-16. This evening, Michigan State hosts Jacksonville State.
***
Kellen Moore threw for two touchdowns and Nate Freese booted three field goals as the Lions won at Buffalo in exhibition action last night, 23-0. Detroit begins the regular season by hosting the New York Giants a week from Monday evening. Coverage from Ford Field on 1450 WHTC is at 6 PM, following Detroit Tigers baseball.
Billy Cundiff kicked four field goals in helping Cleveland defeat the visiting Bears in exhibition action last night, 33-13. Chicago begins the regular season next Sunday afternoon by hosting Buffalo at Soldier Field.
***
Alex Avila's single in the bottom of the ninth inning plated the winning run as the Tigers edged the visiting New York Yankees yesterday, 3-2. Detroit is in Chicago to face the White Sox this evening. Coverage on 1450 WHTC follows high school football.
The Pale Hose welcome the Bengals to US Cellular Field off of a 3-2 loss at home to Cleveland last night. Carlos Carrasco allowed four hits with seven strikeouts in nearly seven innings for the Indians.
Dylan Axelrod only pitched five innings, giving up two hits with eight strikeouts, but it was enough for Cincinnati to defeat the visiting Cubs yesterday, 7-2. Chicago travels to St. Louis this evening.
***
Ronnie Richardson's grand-slam home run in the seventh inning was the decisive blow as Fort Wayne defeated the visiting Whitecaps last night, 6-4. The series at Parkview Field concludes this evening.