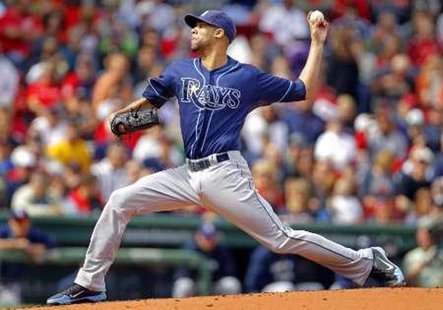 UNDATED (WHTC) - Brandon Guyer's RBI triple in the first inning was the only hit David Price allowed in eight innings, as he struck out nine and didn't walk anybody, but the Tiger lefthander lost in his Tampa Bay homecoming yesterday, 1-0. Detroit opens a four-game series at Minnesota this evening. Coverage on 1450 WHTC begins at 7:45 PM.
The Cubs split a pair of results with visiting San Francisco last night. Chicago won a game that was ruled suspended from Tuesday evening, 2-1, as Major League Baseball upheld a protest of calling the contest after four and a half innings due to wet grounds and ordered the remainder of the match to be played. Anthony Rizzo's first-inning homer held up as the decisive hit. In the regularly-scheduled game, the Giants posted a 5-3 triumph, as Madison Bumgarner allowed seven hits with 12 strikeouts over seven innings. The Cubs host Baltimore this afternoon to begin a three-game series at Wrigley Field; the Orioles move to the North Side after sweeping three from the White Sox at US Cellular Field earlier this week.
Chastened from being swept at home by the Birds, the Pale Hose are in New York to start a three-game series versus the Yankees this evening.
***
Jon Maciel gave up just one hit and struck out 10 over seven innings as the Whitecaps blanked visiting Dayton last night, 5-0. The series at Fifth Third Ballpark continues this evening.
***
Exhibition football tonight finds the Detroit Lions welcoming Jacksonville to Ford Field and the Chicago Bears facing the defending champion Seahawks in Seattle.