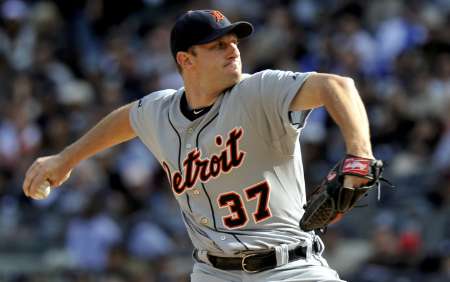 UNDATED (WHTC) -- The Tigers fell in 10 innings to the Blue Jays, 3-2. Detroit starter Max Scherzer threw 106 pitches, retiring the last seven batters he faced and striking out four of them. Offensive help came from Victor Martinez with a two-run double in the sixth which ended the scoreless tie. Ian Kinsler hit a two-out single and Miguel Cabrera walked before Martinez drove a Marcus Stroman pitch the opposite way into the left-field corner. The Tigers faces Toronto again this afternoon. Broadcast on 1450 WHTC gets underway at 12:40 P.M.
The Cubs suffered defeat on Saturday at the hands of the Tampa Bay Rays, 4-0. Starlin Castro supplied two hits and Javier Baez doubled for the Cubs, who lost for a third time in the past four games. Starter Edwin Jackson was tagged with the loss after giving up four runs -- three earned -- on five hits and three walks over six frames. The Cubs try salvage the series by taking on the Rays this afternoon at Wrigley Field.
Conor Gillaspie hit a go-ahead RBI single in the top of the 10th inning as the Chicago White Sox edged the Seattle Mariners, 2-1. Alexei Ramirez went 2-for-4 with an RBI, while Jose Abreu had two hits and scored a run for the Sox. White Sox starter Hector Noesi allowed an unearned run on five hits and a walk over 7 1/3 frames. Chicago hosts Seattle in a late afternoon game.
Kevin Ziomek turned in another dazzling pitching performance and the top of the West Michigan Whitecaps' batting order provided just enough run support to hold on for a 3-2 win over the Lansing Lugnuts on Saturday night at Cooley Law School Stadium. Ziomek allowed just one run on three hits over six innings and striking out eight with one walk, moving into a tie for the league-lead with 127 strikeouts. The Whitecaps wrap up their seven-game road trip this afternoon against the Lugnuts.
The Detroit Lions grabbed a 13-12 victory over the Browns in the preseason opener for the two squads. Both teams have new coaches this year with Jim Caldwell, taking over the reins after the Lions fired Jim Schwartz last season. Cleveland saw the debut of new head coach Mike Pettine. Detroit starting quarterback Matthew Stafford played the opening series and led the team to a 37-yard field goal from Nate Freese. The Lions play their second exhibition game of the season at Oakland on Friday, August 15th.
NASCAR driver Tony Stewart is being investigated for hitting and killing fellow driver, Kevin Ward Jr., who walked out onto the dirt racetrack at Canandaigua Motorsports Park in New York State. Police are investigating the incident. NASCAR's Sprint Cup Race, the Cheez-It 355, takes place Watkins Glen this afternoon.
Story by: Diane Costons