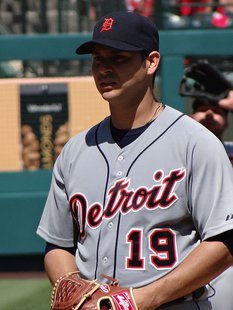 UNDATED (WHTC) -- The Tigers fell to the Twins by a score of 5-3 at Target Field on Saturday. Torii Hunter was 3-for-4 with a run scored in defeat. Victor Martinez homered and knocked in two runs for Detroit, which saw a two-game win streak end. Starter Anibal Sanchez left in the third inning due to a blister. Jose Ortega suffered the loss in relief. The Tigers take on the Twins again this afternoon. Broadcast on 1450 WHTC begins at 1:45 P.M.
The Cubs lost to the Brewers Saturday, 5-3. Travis Wood fell to 1-and-3 on the season after five-and-two-thirds innings of work, giving up seven hits and five earned runs. The Cubs play the Brewers again this afternoon.
The White Sox were on the wrong end of a shutout game Saturday, losing to Tampa Bay, 4-0. The Rays pitching staff combined for a five-hit shutout of the Cubs. The Rays and White Sox continue their series at U.S. Cellular Field this afternoon.
The West Michigan Whitecaps got the win at Fifth Thiurd Ballpark on Saturday, beating the Fort Wayne TinCaps, 5-4. The Whitecaps wrap up their homestand against the Fort Wayne TinCaps this afternoon.
*****
The Red Wings playoff run is over after losing to the Boston Bruins on Saturday, 4-2. Boston won the series 4-1, losing Game One at home. Jonas Gustavsson allowed three goals on 32 attempts in defeat. Pavel Datsyuk and Henrik Zetterberg scored for Detroit.
The Blackhawks have won three straight over the St. Louis Blues after losing the first two games. The series continues in Chicago this afternoon and if the 'Hawks win, they'll be headed to the second round of the playoffs.
The Grand Rapids Griffins scored six unanswered goals to rally from an early deficit and claim a 7-2 win over the Abbotsford Heat on Saturday in Game 2 of the Western Conference Quarterfinals at the Abbotsford Entertainment & Sports Centre. The series now moves to Van Andel Arena for Game 3 on Wednesday.
*****
The Bulls are in Washington, D.C. for Game 4 in the Eastern Conference quarterfinal matchup against the Wizards this afternoon.
*****
NASCAR - Joey Logano came through in a four-car battle at the end to win Saturday's Toyota Owners 400 at Richmond International Raceway. While Matt Kenseth, Brad Keselowski and Jeff Gordon tangled with each other, Logano took the lead with four laps to go. It's his second Sprint Cup victory this season as he joins Kevin Harvick with multiple wins.
Story by: Diane E Coston