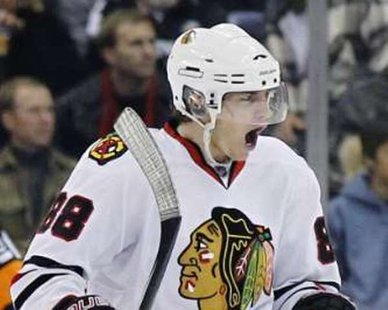 UNDATED (WHTC) - Marcus Semien's grand slam in the seventh inning enabled the visiting White Sox to rally past the Tigers last night, 6-4. The finale of the series at Comerica Park in Detroit is this afternoon; coverage on 1450 WHTC begins at 12:40 PM.
A two-run triple by Aaron Hill capped a five-run ninth inning for visiting Arizona, as the Diamondbacks spoiled the Cubs' 100th anniversary party for Wrigley Field yesterday, 7-5. The series in Chicago concludes this afternoon.
***
A throwing error by Bowling Green's Aaron Griffin allowed the winning run to score in the bottom of the 13th inning as the Whitecaps outlasted the visiting Hot Rods yesterday, 5-4. The finale of the series at Fifth Third Ballpark is tonight; broadcast time on 1450 WHTC and http://whtc.com/listen-live is at 6:25 PM.
***
The Red Wings host Boston in NHL Stanley Cup playoff action this evening, with the Bruins leading the Eastern Conference Quarterfinals, two games to one.
Patrick Kane's goal at the 11:17 mark of overtime lifted the Blackhawks past visiting St. Louis in playoff action last night, 4-3. The Western Conference Quarterfinals is tied at two games apiece heading into tomorrow evening's contest at St. Louis.
***
Yesterday's release of the 2014 NFL schedule showed the Lions welcoming the New York Giants to Ford Field for a Monday night opener on September 8, and Detroit will face Atlanta at London's Wembley Stadium on October 26. The Bears will provide the opposition for the traditional Thanksgiving Day game on November 27; Chicago has five prime-time evening games on its slate after opening at home on September 7 versus Buffalo.