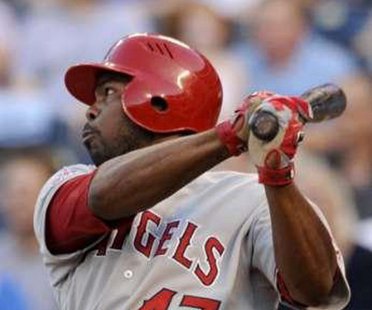 UNDATED (WHTC) - Howie Kendrick hit two homers and drove in four runs as the visiting Los Angeles Angels outscored the Tigers last night, 11-6. The series at Comerica Park in Detroit continues this afternoon, with coverage on 1450 WHTC at 12:40 PM.
Alfredo Simon tossed six innings of four-hit, three-strikeout pitching as visiting Cincinnati shut down the Cubs yesterday, 4-1. The series at Wrigley Field in Chicago continues this afternoon.
Martin Perez fired a three-hit shutout, striking out eight, as Texas blanked the visiting White Sox last night, 12-0. The series at Globe Life Park in Arlington continues this evening.
***
Wynton Bernard's three-run homer in the seventh inning proved to be the difference in the Whitecaps' 5-2 victory at Cedar Rapids last night. West Michigan goes for the series sweep of the Kernels at Veterans Memorial Stadium this afternoon.
***
Pavel Datsyuk's goal with 3:01 left lifted the Red Wings to a 1-0 Stanley Cup playoff victory at Boston last night. Detroit leads the best-of-seven Eastern Conference quarterfinal series, one game to none, with game two at Toronto Dominion Gardens in Boston tomorrow afternoon.
The Chicago Blackhawks are in St. Louis today, with the Blues leading the best-of-seven Western Conference quarterfinal series, one game to none.
***
Colin Smith's goal with 3:05 left broke a 2-2 tie as visitnig Lake Erie downed the Griffins last night, 4-2. The two teams have a rematch in Cleveland this evening to end regular season play.