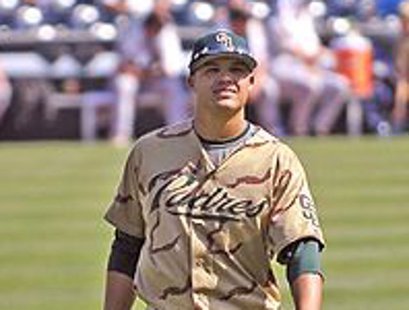 UNDATED (WHTC) - Will Venable's two-run double broke a 1-1 tie in the fourth inning, and San Diego went on to defeat the visiting Tigers on Sunday, 5-1. Detroit hosts Cleveland on Tuesday night, with coverage on 1450 WHTC at 6:40 PM.
The Indians come to Comerica Park off of a 4-3 loss to the White Sox in Chicago, as Alexei Ramirez slugged a two-run homer in the bottom of the ninth for the Pale Hose, who host Boston on Tuesday evening.
Matt Carpenter drove in three runs that included a fourth-inning sacrifice fly that snapped a 3-3 tie, as St. Louis downed the visiting Cubs on Sunday, 6-4. Chicago plays the Yankees in New York on Tuesday night.
***
Austin Kubitza tossed nearly six innings of three-hit, eight-strikeout pitching, setting the tone for the Whitecaps' 2-1 victory over visiting Beloit on Sunday. West Michigan plays Quad Cities in Davenport on Monday evening, with broadcast time on 1450 WHTC and http://whtc.com/listen-live at 7:50 PM.
***
Justin Abdelkader scored twice and Petr Mrazek turned aside 23 shots as the Red Wings blanked the Blues in St. Louis on Sunday. Detroit begins Stanley Cup playoff action in Boston on Thursday night, and this result means that the Blackhawks will start defense of its title in St. Louis, also on Thursday evening.
***
DeMar DeRozan's 30-point performance enabled visiting Toronto to beat the Pistons on Sunday, 116-107. Detroit ends the regular season at Oklahoma City on Wednesday night.
Former U-M star Tim Hardaway Jr. had 20 as New York halted the visiting Bulls on Sunday night, 100-89. Chicago welcomes Orlando to the United Center in Monday evening's regular season home finale.
***
Trevor Parker's goal at the 11:05 mark of the second period broke a 1-1 tie, and Thomas McCollum made the slim margin stand up with a 35-save performance, as the Griffins won at Charlotte on Sunday, 2-1. Grand Rapids hosts Lake Erie at Van Andel Arena on Friday night.