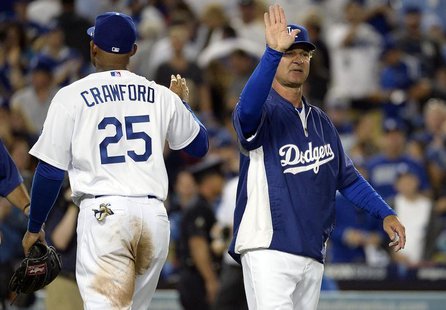 UNDATED (WHTC) - Carl Crawford's 10th-inning double plated the winning run, as the Los Angeles Dodgers edged the visiting Tigers last night, 3-2. The brief series at Chavez Ravine concludes this evening; broadcast time on 1450 WHTC is at 9:45 PM.
Pittsburgh's four-run first inning overcame a two-homer, four-RBI performance from Starlin Castro, as the visiting Pirates held off the Cubs last night, 7-6. The series at Wrigley Field in Chicago continues this evening.
Jose Abreu slugged two homers and drove in five runs as the visiting White Sox routed Colorado last night, 15-3. The rubber game of the series at Coors Field in Denver is this afternoon.
***
Ben Verlander had two RBI, including a fifth-inning sacrifice fly that proved to be the decisive tally, as the Whitecaps won their home opener from visiting Wisconsin last night, 3-2. The series at Fifth Third Ballpark continues this evening.
***
Darren Helm's goal at the 3:33 mark of the third period ignited a three-goal final stanza for the Red Wings, who went on to win in Buffalo last night, 4-2. Detroit magic number to clinch a playoff berth stands at one heading into this evening's contest at Pittsburgh.
The Chicago Blackhawks welcome Montreal to the United Center tonight.
***
Rodney Stuckey's 29-point performance helped lead the Pistons to a victory at Atlanta last night, 102-95. Detroit visits Cleveland this evening.
The Chicago Bulls play Minnesota in Minneapolis tonight.