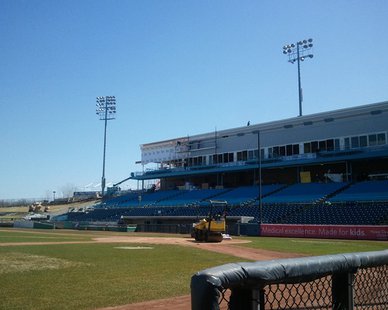 COMSTOCK PARK, MI (WHTC) - For many fans coming into Fifth Third Ballpark for tonight's West Michigan Whitecaps home opener versus Wisconsin, things will look pretty much the same as when they left the facility at the end of the 2013 season last September.
Since then, a January fire caused by a space heater destroyed much of the suite level along the first base side, leading to damage to concession stands, restrooms, and the clubhouses for both the Whitecaps and for umpires. While the exterior of the suite level has been restored, interior work continues, along with renovations of the clubhouse and umpires room that has forced the Whitecaps to take over the third base dugout and clubhouse. Visiting teams and arbiters will be using temporary facilities outside of the left field fence until repairs are made, with a June 17th Midwest League All-Star Game target date.
The fire also led the Whitecaps to move forward with some other renovations that includes turning the team's former front office site into an enlarged souvenir merchandise store and building a new office building adjacent to the first base stands that will be complete by 2015.