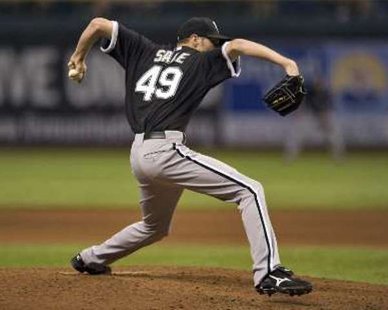 UNDATED (WHTC) - Chris Tillman scattered five hits with five strikeouts over eight-plus innings, pitching visiting Baltimore past the Tigers yesterday, 3-1. Detroit opens a three-game series in Los Angeles against the Dodgers tomorrow night. Coverage on 1450 WHTC begins at 9:45 PM, following West Michigan Whitecaps baseball.
Ryan Kalish drove in three runs and scored two more as the Cubs downed visiting Philadelphia yesterday, 8-3. Chicago is home to Pittsburgh tomorrow evening.
Chris Sale allowed four hits with six strikeouts over eight innings as the White Sox won at Kansas City yesterday, 5-1. Chicago plays Colorado in Denver tonight.
***
Austin Kubitza's five shutout innings of three-hit, eight-strikeout pitching set the tone for the Whitecaps' 5-1 victory at Dayton yesterday. West Michigan entertains Wisconsin in the home opener tomorrow evening. Catch all of the action on 1450 WHTC and http://whtc.com/listen-live, beginning at 6:15 PM.
***
Jeremy Morin scored one goal and set up another as the Blackhawks beat visiting St. Louis yesterday, 4-2. Chicago welcomes Montreal to the United Center on Wednesday evening.