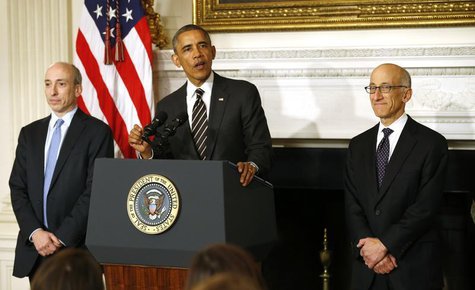 By Douwe Miedema
WASHINGTON (Reuters) - A U.S. Senate committee will vote on three candidates for the U.S. Commodity Futures Trading Commission on Tuesday, after the trio met little resistance from lawmakers in a confirmation hearing last month.
President Barack Obama has nominated Timothy Massad, a senior Treasury Department official, to become the new chairman of the CFTC, which oversees futures and swaps markets.
Sharon Bowen, a partner at law firm Latham & Watkins in New York, and Chris Giancarlo, an industry veteran at swaps broker GFI Group Inc, are nominated for two other spots on the five-member commission, which decides on the agency's most important rule-makings and enforcement cases.
The three met little pushback from the Senate committee, which oversees the CFTC, in a March 6 hearing.
If approved by the committee, the full Senate will have to finalize their confirmations.
Bowen has faced questions over her involvement in a decision to not refund money lost in a $7 billion Ponzi scheme set up by Allen Stanford, who is serving a 110-year jail sentence.
(Reporting by Douwe Miedema; Editing by Lisa Shumaker)