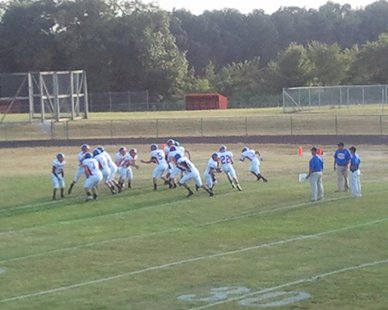 UNDATED (WHTC) - In high school football action along the Lakeshore on Friday night: Holland lost at Forest Hills Central, 45-20; Holland Christian fell to South Christian, 30-7; West Ottawa defeated Grand Ledge, 33-3; Zeeland East outlasted Zeeland West in overtime, 50-44; Hamilton prevailed at Coopersville, 21-20; Saugatuck waltzed at Marcellus, 59-6; and Fennville was blanked in Decatur, 48-0. Next Friday evening at 6:40 PM, hear the East Grand Rapids at West Ottawa game on 1450 WHTC and http://whtc.com/listen-live, or the Saugatuck at Decatur contest on 92.7 The Van and http://927thevan.com/listen-live.
***
Hope College begins a new football season on Saturday night by traveling to North Park in Illinois. Coverage on 92.7 The Van and http://927thevan.com/listen-live is at 6:40 PM.
Grand Valley State also starts a new campaign on Saturday evening by hosting Azuza Pacific at Luebbers Stadium in Allendale.
State major college football on Saturday finds Michigan State home to South Florida, Michigan hosting Notre Dame, Western Michigan welcoming Nicholls to Kalamazoo, Central Michigan entertaining New Hampshire, and Eastern Michigan traveling to Penn State.
***
Omar Infante drove in six runs and Austin Jackson added four RBI, as the Tigers routed the Royals in Kansas City on Friday night, 16-2. The series at Kauffman Stadium continues on Saturday evening. Hear the contest on 1450 WHTC, beginning at 6:45 PM.
Junior Lake's grand slam capped a five-run first inning for the Cubs, who went on to beat visiting Milwaukee on Friday afternoon, 8-5. The series at Wrigley Field in Chicago continues on Saturday.
Scott Feldman tossed a five-hit shutout, striking out three in the process, as Baltimore on Friday night handed the visiting White Sox their eighth straight loss, 4-0. The series in Oriole Park at Camden Yards continues on Saturday afternoon.