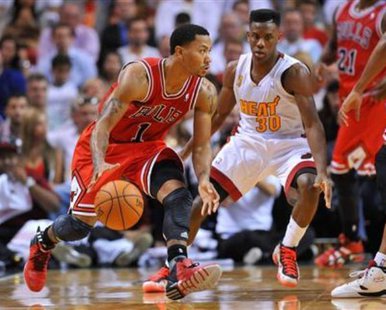 UNDATED (WHTC) - The Detroit Red Wings begin a four-game road trip to Western Canada this evening when they face the Canucks in Vancouver. Broadcast time on 1450 WHTC is at 10:10 PM.
Jonathan Toews had three goals and an assist, but the Blackhawks needed Andrew Shaw's tally with 5:40 left to hold off visiting Ottawa last night, 6-5. Chicago skates at Winnipeg on Saturday afternoon.
***
LeBron James' 17 points led seven Miami players who scored in double figures, as the two-time defending champion Heat started the NBA season by downing the visiting Bulls last night, 107-95. Derrick Rose scored 12 points on his return to action after missing a full season due to a knee injury. Chicago has its home opener versus New York at the United Center tomorrow evening.
The Detroit Pistons begin their campaign at home versus the Washington Wizards at the Palace tonight.
***
The Grand Rapids Griffins entertain the Charlotte Checkers in American Hockey League action this evening.